More work should have gone into addressing the legacy of the Northern Ireland Troubles when the Good Friday Agreement was signed, former taoiseach Bertie Ahern has said.
Mr Ahern said the legacy issue was still outstanding 25 years on from the historic peace deal, with new generations seeking answers about victims of violence.
Mr Ahern was speaking, alongside Sir Tony Blair, to a group of school pupils in Belfast when he was asked was there anything he would have done differently around the Good Friday Agreement.
He said at the time talks chairman George Mitchell had set a deadline of Holy Thursday for a deal, which eventually ran into Good Friday.
"If you ask me today could I go back, I definitely would have worked harder on the chapter on legacy of the Troubles.
"I have spent so much of my life since meeting families who have family members who have died or were injured.
"Even recently I met two different groups, one in Belfast, one in Dublin, in the last few weeks."
The former taoiseach said it was very hard to talk to political parties in Northern Ireland about legacy at the time.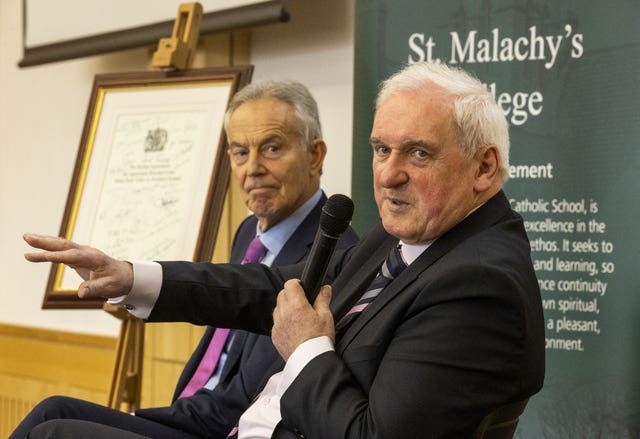 "I said to the political parties who were associated with paramilitaries how about doing something on peace and reconciliation.
"I don't want to be funny about it but I was nearly in the room on my own after half an hour. There weren't many takers around.
"Maybe we should have done something, but to look back and say everybody was signed up for legacy issues in 1998 wouldn't be telling the truth."
New UK Government legislation to deal with the legacy of the Troubles proposes offering immunity for people accused of crimes during the Troubles as long as they co-operate with a new truth recovery body.
It would also stop future court processes or inquests.
Mr Ahern told the group of young people that Northern Ireland still has a problem dealing with families traumatised from incidents during the years of violence.
He said: "I am watching it now going back into generations.
"Now I am meeting delegations with young people who weren't born in 1998, but wondering what happened to their grandfathers.
"It is still an outstanding issue."