A drug addict has been branded evil after being jailed for life for the brutal murder of his defenceless, two-year-old stepdaughter.
Kyle Bevan, 31, will spend at least 28 years behind bars for the savage killing of little Lola James after inflicting catastrophic head injuries on the toddler during a six-hour attack.
One of the medical experts who examined Lola said she was "the most battered and bruised child" she had ever seen, Swansea Crown Court heard.
Bevan blamed the family's pet dog for pushing Lola down the stairs of the home he shared with the girl's mother, Sinead James, in Haverfordwest, Pembrokeshire.
He then set about washing Lola's body, changing her vomit and blood-stained night clothing and cleaning up the murder scene to destroy evidence of his crime rather than call an ambulance.
Bevan took photographs of marks to Lola's back and extensive swelling and bruising to her head, eyes and lips.
He also sent his mother a disturbing video showing him picking up Lola's limp body, attempting to stand her on her feet before letting her fall to the floor – telling the camera: "She's gone. She's gone."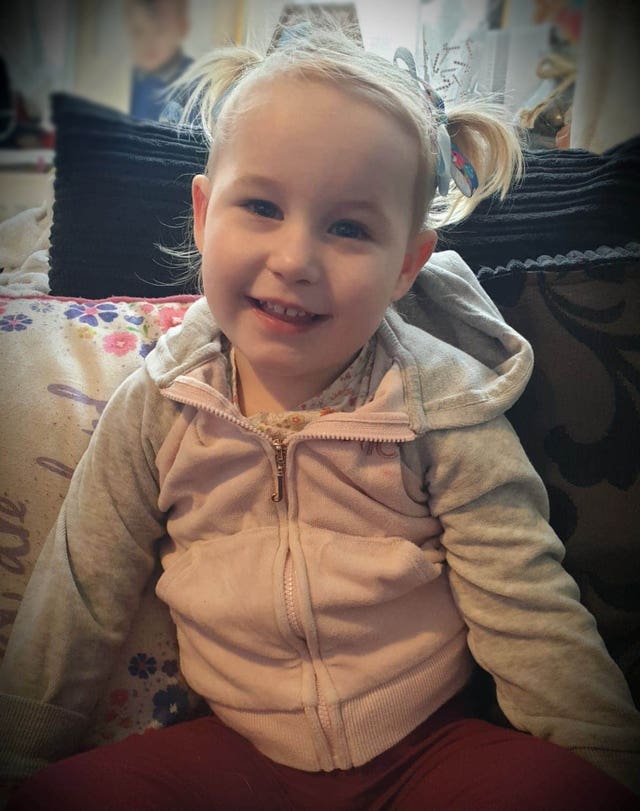 Bevan reassured her everything was okay and she was asleep when he carried out the final attack on Lola.
Her death came months after Bevan, a prolific drug user, moved into the home within days of connecting with James on Facebook.
During those five months, Lola suffered several serious injuries while in Bevan's care, including a black eye and bloody nose, and her murder was seen by investigators as the culmination of escalating violence towards her at the hands of Bevan.
No visits were made to the address after February 10, the same month Bevan moved into her property.
More than a month later, the UK Government triggered the first country-wide Covid-19 pandemic lockdown.
Bevan had denied murdering Lola but was convicted after a trial, while James was found guilty of causing or allowing her daughter's death.
She went on: "Kyle. You took the young, innocent life of my granddaughter. At the same time, you've taken so much more than you can even imagine.
"You killed my Lola, and you have broken her family. I hope that in the time that you have now, you can understand what you have done."
The girl's father, Daniel Thomas, said all he had left were memories of his daughter and had been robbed of the opportunity to see her grow up.
"Lola didn't just die. She wasn't just taken from me in the worst way ever possible. She was brutally attacked. Her tiny body was savaged in the evilest way. She didn't stand a chance.
"The guilt I feel lives inside me and will never leave, as the memory of Lola lying in a hospital bed fighting to stay alive will remain with me always. All I have been left with is guilt, heartache, pain, and torment."
Bevan's barrister, John Hipkin KC, offered no personal mitigation.
David Elias KC, representing James, said she was scared of Bevan.
He added: "She will always have to live with the fact that she has lost her daughter at the hands of a man she allowed into her home."
Bevan was jailed for life with Mr Justice Griffiths saying the six-hour assault only stopped when Lola fell unconscious.
"For some of the injuries, Kyle Bevan used weapons. It was the culmination of several months of physical child abuse.
"I am sure that Kyle Bevan did this as an exercise of power and assertion of superiority over the only person who he could feel superior to, a helpless child."
Jailing James for six years, the judge said: "She prioritised the relationship with Kyle Bevan over concern for Lola.
"This was never more evident than when she went back to bed after the scream and the bang which she heard from Lola's bedroom, when Lola was with Kyle, only hours before Lola was murdered."
He added: "There are weighty mitigating factors. She is very remorseful, as I saw when she gave evidence, and she is also genuinely devastated by Lola's death."
Pembrokeshire County Council confirmed a child practice review would take place into Lola's death.