Protesters are not driving the search for ways of testing new drugs without using animals, a boss at an information organisation has told a High Court judge.
The research sector wants to find ways of not using animals, Wendy Jarrett, chief executive at Understanding Animal Research, told Mr Justice Nicklin.
She said she did not think protesting "helped".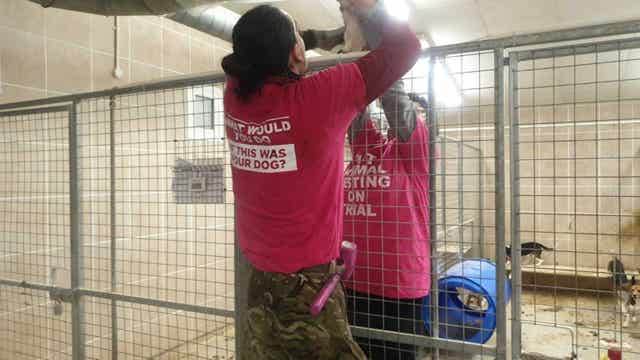 MBR Acres, a company which breeds animals for research, has taken legal action aimed at stopping protesters entering a site in Wyton, Cambridgeshire.
Lawyers representing the company have previously persuaded a judge to impose interim injunctions.
They have now asked Mr Justice Nicklin to make "final" injunctions.
Mr Justice Nicklin began overseeing a High Court trial in London on Monday and is hearing evidence from witnesses called by MBR Acres.
"The sector wants to find ways not have to have to use animals."
She added: "I don't think it is the protesters who are driving the creation of alternatives."
Ms Jarrett told the judge that she did not think "protesting helped".
She said that Understanding Animal Research aimed to help people understand why and how animals were used for research in the UK.
Members included universities and organisations involved in medical research.
One protester suggested to the judge that the organisation was a "lobby group".
The trial is expected to end next month.
Barrister Caroline Bolton, who is leading MBR Acres' legal team, has told the judge that the company is seeking "final injunctive relief" against named people and "persons unknown".
She said the defendants' "goal" was to cause staff to leave their jobs and "bring an end" to "lawful and necessary" activities.
The judge has heard that pop star Will Young took part in a demonstration outside the Wyton site.
Earlier this month, Young called on MBR Acres to allow laboratory dogs to be rehomed when they are no longer needed.
Young was among a number of celebrities who signed an open letter from Beagle Freedom Project UK.
He is not involved in the High Court litigation.