The eyes of the world will be on London when the King is crowned at Westminster Abbey on May 6.
The final guest list is yet to be confirmed but family and friends of the King and Queen Consort, foreign monarchs, politicians, world leaders, celebrities and everyday heroes will attend the service at 11am after the royals have arrived in procession from Buckingham Palace.
The Duke of Sussex ended weeks of speculation earlier this month when he accepted an invitation to the ceremony.
The Duchess of Sussex has decided to remain at home in Los Angeles to be with the couple's son Prince Archie on his fourth birthday.
Here the PA news agency provides a rundown of some of the famous faces who have confirmed they will be in the abbey.
– Royals
Almost the entire UK royal family will attend the ceremony.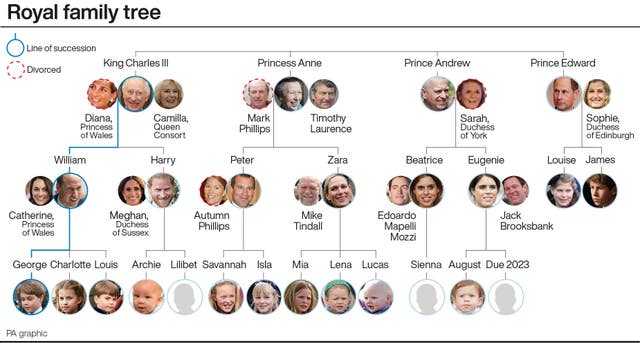 He will be tasked with carrying the King's robes alongside Lord Oliver Cholmondeley, 13, Nicholas Barclay, 13, and Ralph Tollemache, 12, who are all sons of the King's friends.
The Duchess of Sussex and the Duchess of York will miss the service.
The latter, who admitted on Good Morning Britain that she "can't have it both ways" because she is divorced, is expected to attend a private family celebration after the ceremony.
– Family and friends of the Queen Consort
One divorcee who will attend is the Queen Consort's ex-husband Andrew Parker Bowles, 83.
A friend told the Sunday Times of their enduring friendship: "They are joined at the hip. He arranges so much for her.
"They have lunch together the whole time. He's right in there. He was always, and still is, Camilla's co-conspirator."
Her three grandsons Gus and Louis Lopes, 13, Freddy Parker Bowles, 13, and her great-nephew, Arthur Elliot, 10, will be her pages of honour.
Her younger sister Annabel Elliot, 74, and her friend the Marchioness of Lansdowne, 68, will support her during the service as ladies in attendance.
– Foreign royals
Members of foreign royal families will be invited to the ceremony in an historic break with tradition.
Centuries-old tradition stated that a coronation should be a sacred ceremony between a monarch and their people in the presence of God.
Prince Albert II and Princess Charlene of Monaco were the first foreign royals to confirm they will be going to the ceremony.
Others who have confirmed their attendance include King Willem-Alexander and Queen Maxima of the Netherlands, King Philippe and Queen Mathilde of Belgium, King Carl XVI Gustaf and Crown Princess Victoria of Sweden and Dragon King of Bhutan Jigme Khesar Namgyel Wangchuck and his wife Queen Jetsun Pema Wangchuck.
Crown Prince Fumihito and Crown Princess Kiko of Japan will represent Emperor Naruhito at the ceremony.
– UK politicians
Uproar erupted among MPs and peers earlier this year when it was announced just 20 MPs and 20 peers would enter a ballot for a place at the ceremony, The Telegraph reported.
That number has reportedly since been expanded but far fewer than the 800 MPs and 910 peers who were invited to the late Queen's coronation will make the cut. 
Prime Minister Rishi Sunak and all his living predecessors are expected to be there alongside Cabinet ministers and leader of the Opposition Sir Keir Starmer.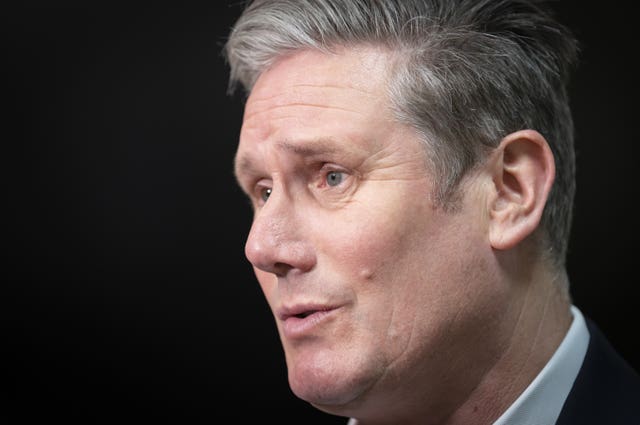 Sinn Fein's leader in Northern Ireland Michelle O'Neill has sparked criticism from some by accepting her invitation to the ceremony.
She said she will go to advance "peace and reconciliation" despite being "an Irish republican."
– Foreign leaders
US president Joe Biden will not be attending the service but Washington has been at pains to deny the move is a snub. First Lady Jill Biden will instead represent the US.
French president Emmanuel Macron announced earlier this month that he will be there to show his "friendship, respect and esteem" for the UK.
Germany and Italy will send their ceremonial presidents Frank-Walter Steinmeier and Sergio Mattarella, rather than heads of government Olaf Scholz and Giorgia Meloni.
Chinese vice-president Han Zheng, who presided over a civil liberties crackdown in Hong Kong, is also on the King's guest list. The move has been branded "outrageous" by Conservative MPs.
Australian prime minister Anthony Albanese and Pakistani prime minister Shehbaz Sharif have both said they are going.
Some Commonwealth leaders are not expected to be in attendance due to growing rifts over the colonial past, despite the Queen Consort's decision not to wear the controversial Koh-i-Noor diamond.
– Celebrities
The Repair Shop's Jay Blades revealed on his Twitter and Instagram accounts on Tuesday that he had been invited to the Coronation.
He is co-chairman of the Heritage Crafts Association, a charity which aims to safeguard craft skills, of which the King is president.
Mayor of West Yorkshire Tracy Brabin, who previously played Tricia Armstrong in Coronation Street, has also tweeted a video of herself opening up the special envelope containing the invite.
– Everyday heroes
More than 850 community and charity representatives from across the UK have been invited to the King's coronation.
Invitations to the service itself have been extended to more than 450 British Empire Medal recipients in recognition of their contributions.
Among them is record-breaker Max Woosey, 13, dubbed "the boy in the tent", who raised more than £750,000 for North Devon Hospice by camping in his garden for three years.
Some 400 young people representing charities will also be able to watch the coronation service and procession from the adjacent St Margaret's Church.