Cold calls which cheat people out of their money by tricking them into buying fake investments are to be banned under government plans to be announced next week.
Prime Minister Rishi Sunak says the move is needed to "prevent fraudsters from infiltrating their way into people's lives in the first place."
The aim is to extend a current ban which stops cold calls about pension products so it covers calls selling any financial product.
The ban on pension products aims to make anyone receiving such a call confident enough to hang up and report the scammer.
Mr Sunak said: "Scammers devastate lives and livelihoods, preying on people's fears to cheat them out of their money.
"To clamp down on these crimes, we have to prevent fraudsters from infiltrating their way into people's lives in the first place.
"That's why we're stopping scams at source by taking away the routes used to target victims, keeping people safe and shielding them from the criminals responsible."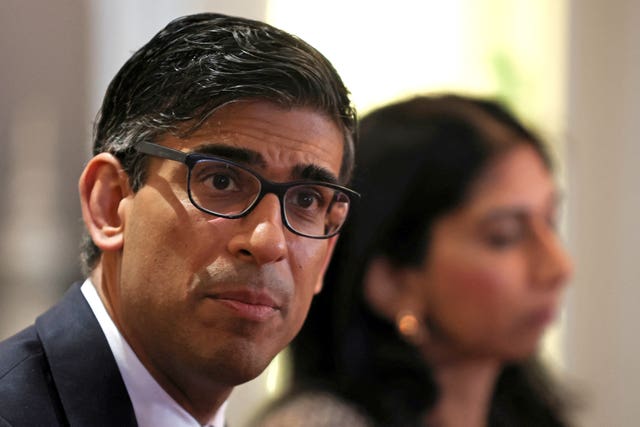 "They seek to rob people of their hard-earned money through deception and exploitation, and relentlessly search for new ways to trick people.
"Banning cold calls and stopping fraudsters using technology is the start in our fightback against these cowards who hide in the shadows."
Once in force, people receiving a call offering them products, such as sham crypto currency schemes or types of insurance, will know that it must be a scam, helping to stop people falling victim to fraudsters trying to dupe them.
It comes after developments in modern technology have opened up new ways for criminals to inflict harm, often pretending to be a loved one or a legitimate business to scam people out of their money.
The new strategy is to be launched by Mr Sunak and Ms Braverman aimed at helping tackle fraud which costs society an estimated £6.8bn a year, according to the Government.
The strategy is also set to include details about plans to improve the protection of victims, including involvement law enforcement and industry, in response to the growing ways fraudsters are using new technologies to target them.
Common scams, which appear to be from trusted services or brands, include texts claiming to be from the Royal Mail which seek to rearrange a delivery, or from a bank, instructing someone to transfer their money.
The proposals will ban so-called SIM farms, electronic boxes made up of bundles of SIM cards, so these devices are not used by scammers to rapidly send fraudulent messages simultaneously to thousands of people.
Scam texts are also used by organised crime gangs to market drugs and the Government hopes the ban will help to shut down this route to target victims.
Up to 41 million adults in the UK were targeted by suspicious calls and texts last summer, according to Ofcom research.