NHS services across England will face major disruption on Monday after nurses walked out in a 28-hour strike over pay.
The strike, which will end just before midnight, comes after a High Court judge ruled it would be unlawful for the industrial action to continue into Tuesday as originally planned.
Monday will also see NHS workers march in central London. Unite said the march will coincide with a strike by its members in Guy's and St Thomas' NHS Foundation Trust and the Yorkshire Ambulance Service.
It follows concerns over the impact of the strike action on patient safety.
Royal College of Nursing (RCN) general secretary Pat Cullen said on Sunday that measures were in place to keep patients safe after concerns were raised about the impact of the strike action on emergency services.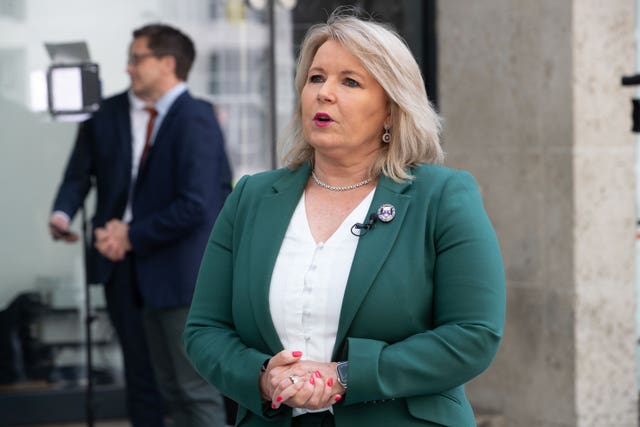 Great Ormond Street Hospital (GOSH) is among organisations where nurses have agreed to derogations after it voiced "serious concerns" about patient safety during the walkout.
The hospital said it was "incredibly grateful" to RCN members for offering assurances but took the decision not to stand down a "business continuity incident" until it was confident it could staff services during the strike.
The Unite walkout follows rejection of the Government's pay offer by its members.
The union said that with inflation still in double figures, the offer is a "substantial real-terms pay cut" for NHS workers.
Unite members at South Central, South East Coast and West Midlands ambulance trusts alongside workers at The Christie NHS Foundation Trust, The Christie Pathology Partnership, East Lancashire Hospitals NHS Trust and Sandwell and West Birmingham NHS Trust will all take part in industrial action on May 2.
NHS England warned that staffing levels in some areas of the country on Monday will be "exceptionally low, lower than on previous strike days".
It added the number of rescheduled appointments due to strike action is set to hit half a million next week.
Health Secretary Steve Barclay has said the 28-hour nursing strike is "premature" and "disrespectful" to other unions.
The comments come ahead of a meeting of the NHS Staff Council, made up of health unions, employers and Government representatives, which will discuss the Government's 5% pay offer.
"I think this strike is premature and is disrespectful to those trade unions that will be meeting on Tuesday," he told broadcasters.
But Ms Cullen said there are national exemptions in place for "those really acute urgent services".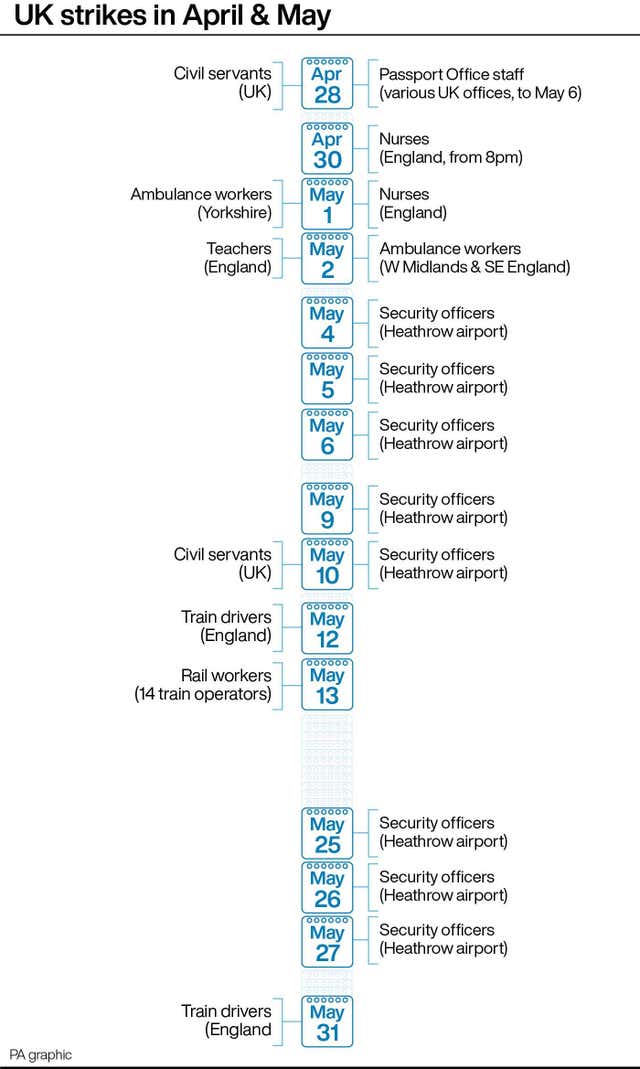 Dame Ruth May, chief nursing officer for England, said: "We are grateful to the RCN for agreeing a process of safety critical mitigations and we continue to support all nurses, those who work and those who take industrial action.
"These mitigations do not represent a return to standard staffing. The industrial action will still have a very significant impact on services during the strike period and patients can expect to see longer waits for care.
"The public should use the NHS wisely, with those needing non-urgent care using pharmacies and 111 online as their first port of call. And if you have a life-threatening emergency, please seek help in the usual way by dialling 999."
Nurses make up a quarter of NHS staff and are the biggest proportion of the health service workforce.