Taoiseach Leo Varadkar has said he looks forward to hosting the King in Ireland.
Mr Varadkar and Irish president Michael D Higgins attended the coronation service in Westminster Abbey in London.
They were also present at a reception at Buckingham Palace on Friday and spoke to Charles and members of the UK Government.
The Taoiseach said: "King Charles and Queen Camilla are long-standing friends of Ireland and King Charles has visited regularly in the past two decades, supporting good bilateral relations, co-operation, peace and reconciliation.
"I expressed my hope that his regular visits will continue into his reign.
"I was pleased to accept the invitation to attend the coronation, alongside President Higgins, symbolising the close neighbourly relations between our two countries.
"This is a historic moment for the British people, for the realm, and for their friends around the world."
Mr Varadkar added: "We have deep political, economic, cultural, and personal links with Britain, which provided a welcome home to so many of our citizens for generations.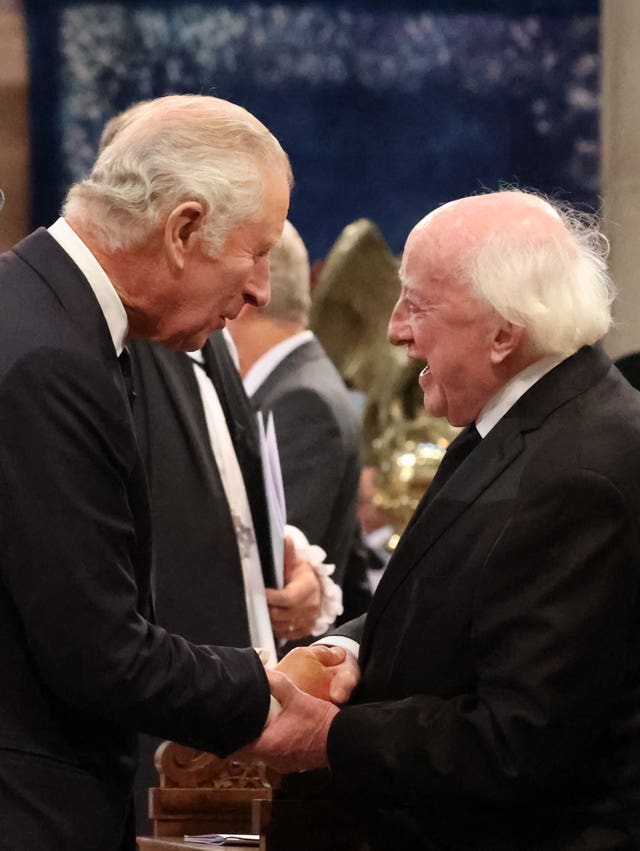 "And, of course, there are many people, in the north especially, who are both British and Irish.
"As we mark the coronation of King Charles III, I look forward to further strengthening British-Irish relations and the friendship between our peoples and look forward to welcoming the royal couple to Ireland in due course."
Mr Higgins is the first Irish head of state to attend a coronation.
To mark the event, Mr Higgins and and his wife Sabina requested the Tree Council of Ireland plant a native Irish oak tree in the woodland forest of Aurora in Co Wicklow.
The gesture was to acknowledge the King's commitment to environmental sustainability.
In a joint statement the Ceann Comhairle and Cathaoirleach said: "On behalf of the Houses of the Oireachtas, we congratulate King Charles and Queen Camilla on this auspicious day and wish them well in their endeavours for the British people.
"As the late Queen Elizabeth herself acknowledged during her landmark visit to Ireland in 2011, the history between these islands is long and complex, but at the same time the family, cultural and economic ties that bind the people of Ireland and the United Kingdom make us firm friends.
"Like his late parents, King Charles has worked over the decades to build and nurture peace and reconciliation between the communities in Northern Ireland, across this island and between Ireland and Britain.
"Throughout her long reign, his late mother was the embodiment of public service, dedicated to performing her duties for her people at home and committed to representing her nation abroad.
"We know King Charles will continue in that tradition to build his own relations and legacy as monarch."