Sir Keir Starmer has asked Rishi Sunak who he thinks "he has actually got a mandate from" after accusing him of losing "everywhere" in the local elections.
The Labour leader and the Prime Minister clashed at Prime Minister's Questions which was being held for the first time since last week's local elections in England.
The Conservative Party lost more than 1,000 councillors and control of 48 councils overall, whereas Labour picked up 500 seats.
Sir Keir began his weekly grilling by mocking the Prime Minister and trying to paint him as a serial election loser.
Meanwhile, the Prime Minister branded the Labour leader "Sir Flakey" and accused him of being "busy plotting coalitions".
Sir Keir has so far refused to rule out a coalition with the Lib Dems if they fail to win a majority at the next general election.
Addressing the Tory councillors who have lost their seats, Sir Keir opened PMQs, saying: "This time last week the Prime Minister had to correct the record on misleading claims he made about employment numbers.
"Can he provide a further update now he's cost a thousand Tory councillors their jobs?"
On Mr Sunak's record, Sir Keir went on: "Last year he lost a Tory beauty contest to (Liz Truss) who then lost to a lettuce. Last week, when he finally came into contact with voters, he lost everywhere.
"No matter who the electorate is, the Prime Minister keeps entering a two-horse race and somehow finishing third.
"Given his track record, who does he think he's actually got a mandate from?"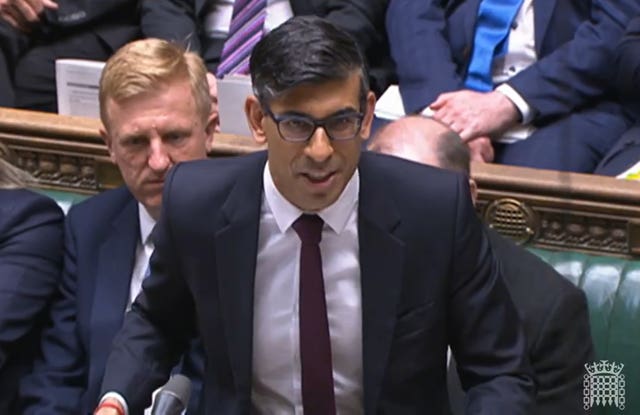 "He was for them before he was against them. He's not just Sir Softie, he's Sir Flakey too."
The rest of the exchange saw the Labour leader pressing the Prime Minister on the cost-of-living crisis and the UK economy.
He asked: "Is he planning to carry on as if nothing happened and ignore the message he was sent last week, or is he going to do what a Labour government would do and announce an immediate freeze in council tax bills?"
Mr Sunak replied: "I know he's asked his Labour councillors rightly to focus on the cost of living. Perhaps they could start with reducing council tax to the level in Conservative-run areas."
Sir Keir also asked the PM if working people understand why he continues to protect his "non-dom status" instead of using money to train doctors and nurses.
In response, Mr Sunak said Labour's NHS workforce plan would discourage doctors and nurses from coming to the UK.
Sir Keir insisted "this is the price of having a tired, worn-out Government fronted by a Prime Minister who boasts he has never had a working class friend".
Amid laughter from the Tory benches, Mr Sunak said: "He is right, we all do say some silly things when we are younger, I was a teenager, and he will know what I'm talking about because I think in his 40s he was still talking about abolishing the monarchy."
He accused Sir Keir of "all politics and no action", adding: "While he is busy plotting coalitions, we are getting on and delivering for the British people."