Parts of the UK will continue to be hit by heavy rain, thunderstorms and hail as the Met Office issues a yellow warning.
Travel could be disrupted by deluges – with driving conditions and rail services affected – while buildings may be damaged by lightning strikes, the forecaster said.
Heavy showers and thunderstorms are expected to develop through Wednesday afternoon – across central and eastern areas of Scotland, parts of central, eastern and southeastern England and southern areas of Northern Ireland – before the weather eases during the evening.
Some 25-30 millimetres of rain are predicted to fall within two to three hours in areas where heavy rain develops.
The yellow warning is in place between 1-8pm on Wednesday.
It follows an onslaught of rain, thunder and hail across parts of England on Tuesday.
Basingstoke was battered by hailstorms – with one resident describing his worry over the storm damaging his car – while Somerset experienced a "different scale" of rain.
George Dibley, who lives in Basingstoke and works in public affairs, told the PA news agency: "It was crazy to see and hear. It sounded like someone was knocking on our window."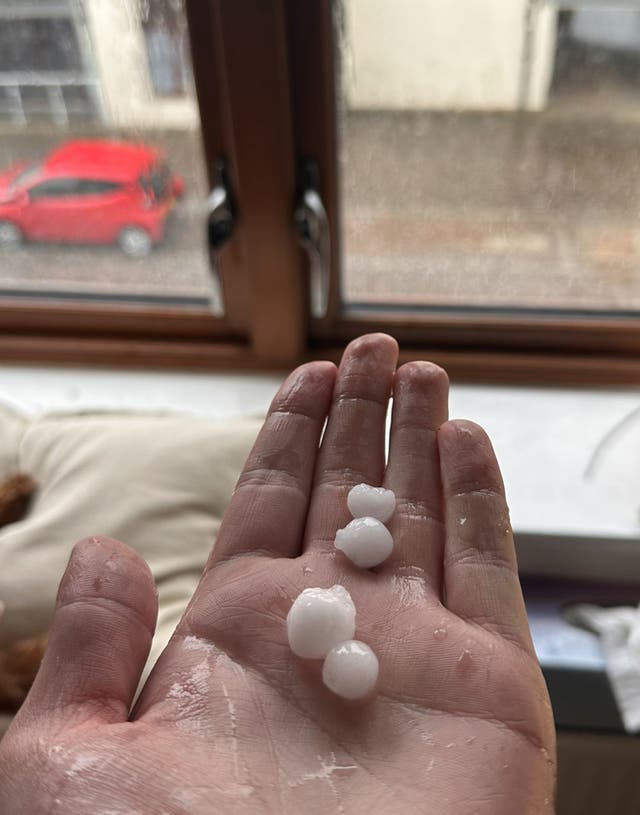 Meanwhile, a stream flooded a garden in Somerset after heavy rain.
Valeria Coots, from Bathealton, posted videos on Twitter and told PA: "The stream breaks its banks quite regularly after prolonged heavy rain, usually a couple of times per year.
"Today has been on a different scale, though, really unbelievable. The stream rose about a foot above the level of the garden and whole parts either side were completely submerged."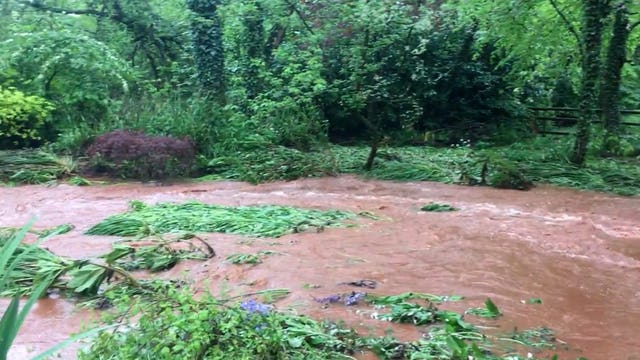 The 16-year-old from Frome said: "It was very shocking because it had been raining for about three solid hours and we had to try to find a way around it, through a flooded footbridge.
"Our car was on the other side so we had to go all the way around, over a flooded footpath bridge and through another bit of flood to get to the car."
According to the Met Office, there will be some sunshine on Thursday, with rain, hail and thunder breaking out before the weather is "widely settled" from Friday through to Sunday.