Ministers have faced suggestions from the DUP that the UK Government has been "gaslighting" the people of Northern Ireland over funding.
DUP MP Sammy Wilson (East Antrim) warned the "Barnett squeeze is getting greater", while DUP colleague Gavin Robinson described "systemic underfunding of the Northern Ireland budget", as the Northern Ireland (Interim Arrangements) Bill cleared the Commons.
Outlining the legislation, Northern Ireland minister Steve Baker told MPs the Bill would "ensure a continuation of the current governance arrangements in Northern Ireland… should there be no executive when they expire on June 5".
He said: "We recognise that this Bill is an interim arrangement, it clarifies the powers the civil servants need to maintain public services in the absence of an executive.
"This is of course why we need the executive back and I am aware we're very much sounding like a stuck record, but this is what we're seeking to do – to get the executive back."
There has been no functioning government in Stormont since last year when the DUP withdrew in protest over the post-Brexit trading arrangements for Northern Ireland.
Mr Baker, on direct rule, said: "I am absolutely clear this Bill does not give us any powers to implement measures."
He later told MPs: "We are very clear that finances in Northern Ireland are not sustainable but we're also clear that it is for an executive to act on it.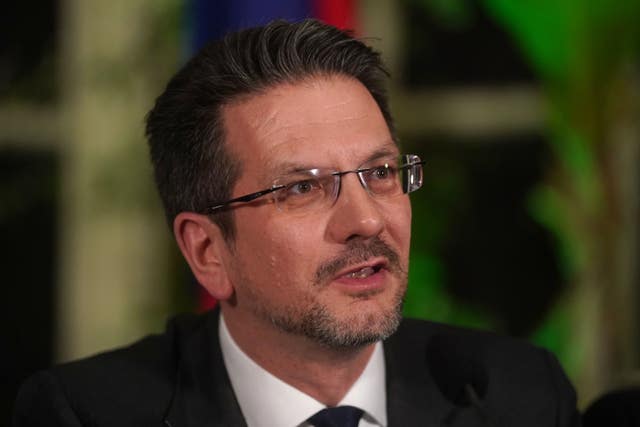 Mr Robinson said the Barnett formula "needs to be assessed on need" and outlined policy areas where he has concerns over future funding
The MP for Belfast East said: "If the executive was up tomorrow, the fundamental damage being caused by the budget and the fundamental choices that have to be made will be there, the resource won't."
Mr Robinson added that "the politics of all of this has been about gaslighting the people in Northern Ireland… psychologically questioning our understanding of how finances work, telling us that we're overfunded when we know we're structurally underfunded.
"Standing in this chamber and saying 'oh but Northern Ireland gets 121% of what people in England get', when you know that that's less than what Northern Ireland needs. That's gaslighting."
His comments were echoed by Mr Wilson who said: "Getting back into Stormont is not going to grow the purse, it's not going to change the financial situation and it's not going to make it any easier.
"The extremely challenging (situation) and the difficulties for long-term sustainability will still be there."
He added: "We should not be selling the lie to people in Northern Ireland that get back into government and suddenly all the problems that you're facing in health, education, communities, policing and everything else will disappear."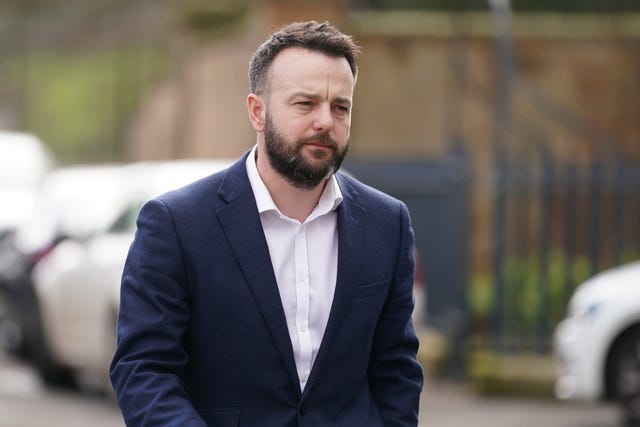 It is "disingenuous" to say that the presence of an executive would have been irrelevant to this year's Northern Ireland budget allocation, Alliance MP Stephen Farry added.
The North Down MP added: "Without an executive, there's not a process for managing the pressures as efficiently and effectively as possible and that matters much more in the context of a crisis than it does when we are in a situation of a surplus."
Tory chairman of the Northern Ireland Affairs Committee Simon Hoare said the Treasury continually providing new money with no "concomitant reform" from Belfast "doesn't serve any particular purpose".
He told the Commons: "Local politicians in Northern Ireland either deliver new streams of money through revenue and or expenditure savings and Treasury will provide new money, but just to continually provide new money with no concomitant reform from Belfast doesn't serve any particular purpose and arguably raises too many questions in the minds of English voters as to why they are not getting a greater share of the public purse."
Shadow Northern Ireland secretary Peter Kyle cautioned the current situation "cannot continue forever".
He said: "The Secretary of State has been clear that we are not moving into direct rule. What we have instead is limited interventions from Westminster that keep public services functioning with limited scrutiny, the situation cannot continue forever."