Rail passengers face fresh travel disruption over the next few days because of strikes by train drivers and other workers in long-running disputes over pay.
Members of the drivers' union Aslef will walk out on Friday at more than a dozen train operators, crippling services across the country.
Members of the Rail, Maritime and Transport union (RMT) will strike on Saturday – the day of the Eurovision Song Contest final in Liverpool.
Picket lines will be mounted outside railway stations as the unions continue their long-running campaign for a bigger pay rise than has been offered.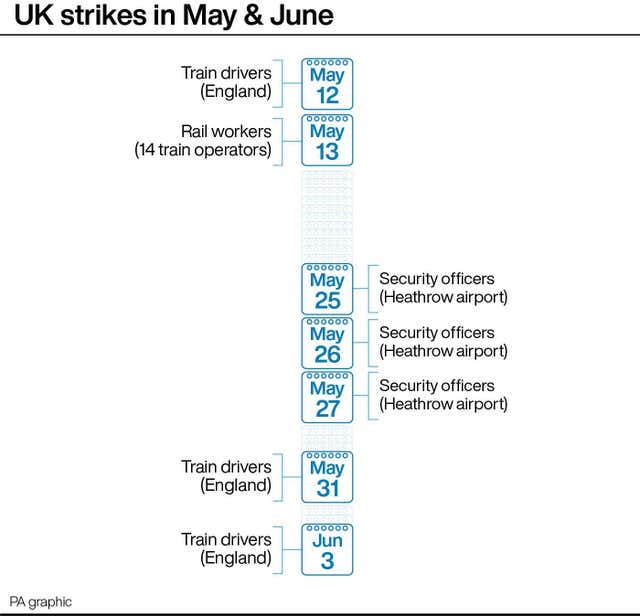 "But the blame for this action lies, fairly and squarely, at the feet of the employers who have forced our hand over this by their intransigence.
"It is now up to them to come up with a more sensible, and realistic, offer and we ask the Government not to hinder this process.
"We have been negotiating with employers – the train operating companies – for many months on pay. On several companies we have managed to come to an agreement, and on several others, multi-year deals have been honoured.
"Unfortunately a number of companies still have their hands tied by the Department for Transport and aren't able to negotiate a reasonable deal with Aslef members.
"We are still prepared to negotiate in good faith but, unfortunately, as we have been unable to come to an agreement, we have had to consider industrial action."
Steve Montgomery, who chairs the Rail Delivery Group, said: "The upcoming rail strikes called by the Aslef and RMT leadership will not only affect our passengers' daily commute but will also impact those travelling from outside Liverpool and London to come to Eurovision and the FA Cup final, causing disappointment and frustration for those who have planned to attend.
"It will also further burden our people who have already lost thousands of pounds at a time of financial strain.
"We understand the impact of these strikes on individuals and businesses alike, and we can only apologise for this unnecessary and damaging disruption.
"While we are doing all we can to keep trains running, unfortunately there will be reduced train services across the network between Friday May 12 and Saturday June 3, so our advice is to check before you travel. Passengers with Advance tickets can be refunded fee-free if the train that the ticket is booked for is cancelled, delayed or rescheduled."
Anthony Smith, chief executive of watchdog Transport Focus, said: "For those planning to head to Liverpool, strikes could really prove a party-pooper.
"Many people will be infrequent or first-time train users so may not have realised how wide the disruption will be.
"Our message to all those travelling, for Eurovision or other reasons, is check before you go, and keep checking. Also, be aware trains that are running may be more crowded than you expect."
The Rail Delivery Group said that after many weeks of negotiations with the Aslef leadership it had made a "revised and fair offer" including a pay rise of 8% over two years.
"It would have introduced overdue, common-sense improvements already in place in parts of the network, which would will see more trains running on time for passengers.
"Sadly, this has been rejected," said a spokesperson.