Union leaders have promised to "defy" the Government's controversial legislation on minimum levels of service during strikes in a series of speeches at a rally in central London.
More than one hundred people gathered in Parliament Square waving colourful union flags as they cheered at criticism of the Strikes (Minimum Service Levels) Bill, which returns to Parliament for MPs to discuss amendments put forward by the Lords.
Unions have warned the Bill could lead to workers being sacked for legally voting to take industrial action.
"We will not allow our members to be dismissed," he said. "We will not allow our members to be disciplined. We will not obey work notices issued by the employer or issued by the Government. We will defy this law.
"If this law comes into fruition… the TUC and all of the trade unions affiliated and every worker in this country has got to unleash a mass campaign of workplace disobedience."
He urged Labour MPs to vote against the legislation, insisting it is "easy" to do so.
Mr Lynch went on to say that a Bill of rights for workers that "enshrines" in law the right to strike "as a human and civil right" is needed.
Paul Nowak, general secretary of the Trades Union Congress (TUC) – which organised the rally, also hailed the necessity of a "new deal" for workers.
"If this Government won't deliver that new deal for working people we're going to make them pay the electoral price for 13 years of these spiteful attacks on working people, 13 years of decimating our public services, 13 years of reducing our pay and holding down our conditions," he said.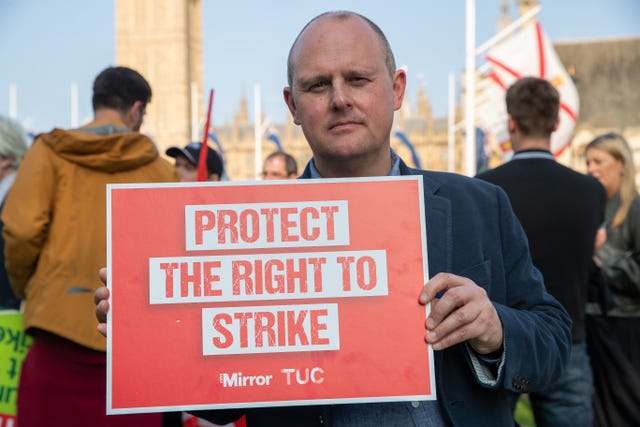 He told the crowd that if the Bill gets on to the statute books, the TUC will challenge the Government legally and industrially.
"You might get this legislation on the statute book but we will not stand by and let you sack one single nurse, one single paramedic, one single teacher, one single railway worker, one single civil servant," he added.
Speaking to the PA news agency before the start of the rally, Mr Nowak insisted there is "no appetite" for the legislation.
"The idea that somebody could be sacked for exercising a basic democratic right to take strike action is absolutely reprehensible," he added.
"It is just not right, not fair that nurses are using foodbanks," he said.
"It's not right, it's not fair that school support staff are using foodbanks and any decent government, any decent set of ministers would acknowledge that and they would begin an emergency programme to put it right.
"But this Government instead wants to continue in the same direction it's been on since 2010 of cutting of public services, preparing them for privatisation and cutting our wages. They want to continue with Margaret Thatcher's trajectory."
He added: "It shouldn't be about fining unions and sacking workers, it should be about fining this Government and sacking the ministers."
"Well I never thought I would say this on a union platform but good for the House of Lords," he told the crowd, prompting laughter.
Labour has promised to repeal the Bill if it wins the next general election and MP Jo Stevens reiterated the promise at Monday night's rally.
"If it passes on the back of Tory votes, no ifs, no buts, Labour will repeal it," she said.
The politician added: "This is all about Rishi Sunak distracting from the Tory conveyer belt of crisis with a vindictive attack on working people."