Government borrowing swelled to £25.6 billion last month amid the cost of energy support schemes, higher benefit payments and rising debt interest, according to official figures.
The Office for National Statistics said it was the second-highest April borrowing on record, outstripped only by the pandemic-impacted month in 2020.
It represented an £11.9 billion rise compared with the same month last year.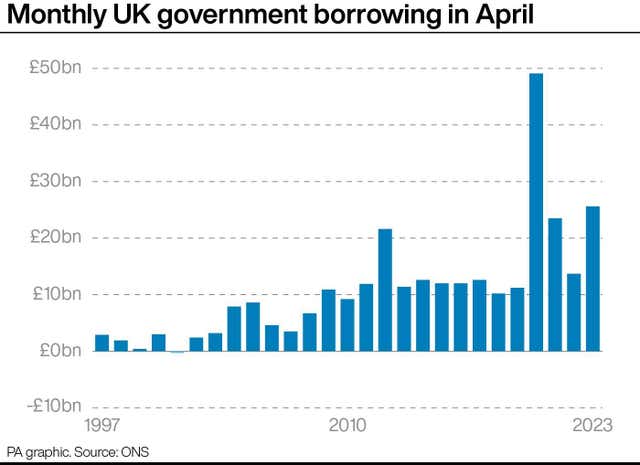 Chancellor of the Exchequer Jeremy Hunt said: "It is right we borrowed billions to protect families and businesses against the impacts of the pandemic and (Russian President Vladimir) Putin's energy crisis.
"But debt and borrowing remain too high now – which is why it's one of our priorities to get debt falling.
"We've taken difficult but necessary decisions to balance the nation's books, and if we stick to our plan and get our economy growing, then debt is set to fall."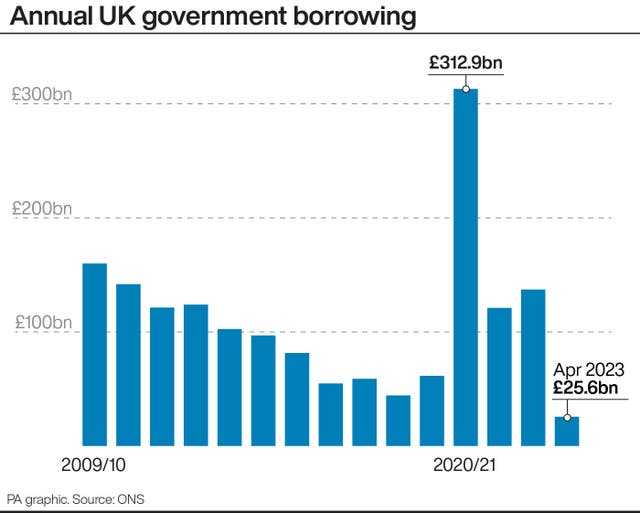 Meanwhile, spending jumped by £22 billion to £109 billion, partly due to a rise in social benefits, including the inflation-linked increase in benefit payments such as universal credit.
The Government also paid a further £2.2 billion in cost-of-living financial support over the month.
Meanwhile, the Government was also hit by soaring interest payments on debt.
Britain's debt interest bill increased to £9.8 billion in April, the highest for the month since records began in 1993, due to increased interest on inflation-linked government bonds.
The ONS is set to disclose the rate of UK inflation for April on Wednesday, with economists expecting it to fall below 10% for the first time since last July.
Government spending last month also grew due to continued energy bill support, with a further £3.9 billion spend on energy subsidies for the month.
Economists have said the cooling of energy prices through this year is expected to bring down the level of state borrowing.
Divya Sridhar, economist at PwC, said: "Looking ahead, falling energy prices will provide some relief to public spending.
"Ofgem's energy price cap announcement for the summer later this week is expected to reflect energy prices for households falling below the Government's energy price guarantee threshold for the first time."
On Tuesday, the ONS also revised down its budget deficit estimate for the financial year to March, from £139.2 billion to £137.1 billion.