The head of Britain's armed forces has defended plans to cut the size of the Army.
Admiral Sir Tony Radakin, the Chief of the Defence Staff, told the London Defence Conference: "I think we are slightly stuck in some of the numbers game.
"The numbers are important, I don't want to deny that, but the numbers aren't quite as totemic and as golden as people say. They can be a bit lazy as the arbiter of describing an armed force."
The Army currently has 76,000 regular soldiers, down from 97,000 in the past decade, and is set to see troop numbers fall further to 73,000.
Labour has called for the Government to halt the planned cuts, with shadow defence secretary John Healey calling them "perverse" at a time of increasing international threats, but the Prime Minister told the conference on Tuesday that he would not "second guess" military chiefs.
Speaking at the conference, hosted by King's College London, on Wednesday, Admiral Radakin said the British Army had benefits beyond simple "mass".
"We provide an operational advantage, whether that's because of fantastic intelligence services, fantastic special forces, nuclear submarines, amazing soldiers that are prepared to fight and lay down their lives.
"That's what our partners look for, but it's rarely mass."
He added: "In the future our mass will be provided by technology much more than it is now."
But Admiral Radakin suggested that troop numbers were unlikely to fall below 73,000 when Ben Wallace, the Defence Secretary, publishes updated plans in a defence command paper in June.
Reflecting on the lessons of the Ukraine war, Admiral Radakin said the conflict was "an affirmation of the Western way of war" and underlined the importance of Nato to UK security.
He said: "Nato's got bigger by the addition of Finland. Nato will get even bigger again by the addition of Sweden. Nato has invested £350 billion additional in terms of all of those countries putting more money into defence.
"Those are far bigger impacts than the conversations we're having about our domestic armed forces.
"And so this fixation, I see sometimes some newspapers, they portray a Russian Orbat (order of battle) against the UK, and yet we tell you as a policy that if we were to go to war with Russia it would be the whole of Nato and suddenly that Orbat is 3 million people in uniform, it's a couple of thousand ships and submarines, it's 15,000 tanks, it's thousands of fast jets."
He added: "The affirmation is we keep our nation safe by adopting collective security and being in the world's largest and most powerful military alliance ever, and the affirmation is further enhanced by being a nuclear power and being part of a nuclear alliance.
"Those are the foundations of why the UK is safe."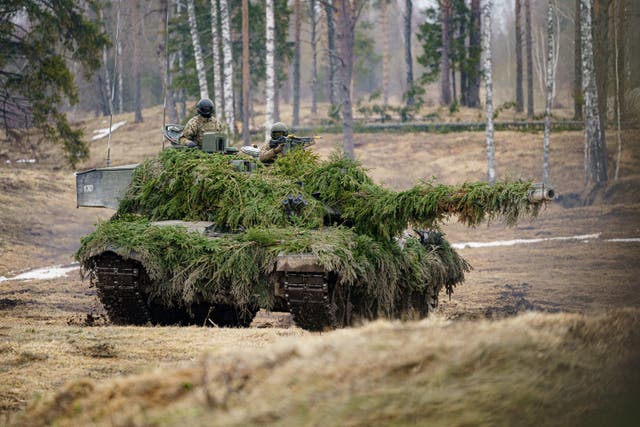 The last defence command paper, published in 2021, set out plans to cut the number of tanks in the British Army by a third, from 227 to 148.
Boris Johnson defended the policy, claiming that the days of "big tank battles" were over, but was criticised for these comments following the outbreak of war in Ukraine three months later.
Admiral Radakin, however, said tanks were not a "silver bullet" and the UK could rely on other Nato nations with stronger tank capabilities.
He said: "When you look at the UK's armed forces you have to then put them into where do we fit into Nato, where do we have particular capabilities that strengthen Nato, where do we rely on other countries that might have capabilities that we don't have.
"And then are there some things that we might not be super strong in that capability, we want to have a modest element, and we'll expect others to be stronger.
"And the tank is an obvious one. There are other nations within Nato that are stronger tank nations. That doesn't necessarily mean that we dispense with tanks, it just means that in a balanced force, as part of a balanced international force, you then take those decisions as to how much do you need."
He added: "This notion that these are cliff-edge decisions and if you haven't got them suddenly you're naked and you're no longer safe, it's nonsense."