Nurse Lucy Letby attacked nine of her alleged victims shortly after their parents left their cotsides, a court has been told.
Prosecutor Nick Johnson KC accused Letby of taking the opportunity of their absence to harm the babies treated at the Countess of Chester Hospital's neonatal unit.
Letby, 33, is said to have twice attacked one of the infants, Child H, a baby girl, not long after her father left her nursery to go home.
Mr Johnson suggested to the defendant: "(Child H's father) leaving gave you the opportunity to sabotage (Child H), didn't it?"
Letby said: "No."
Mr Johnson said: "Just as in the cases of (Child B), (Child C), (Child E), (Child I), (Child M), (Child N), (Child O) and (Child P) – all children who deteriorated shortly after their parents left.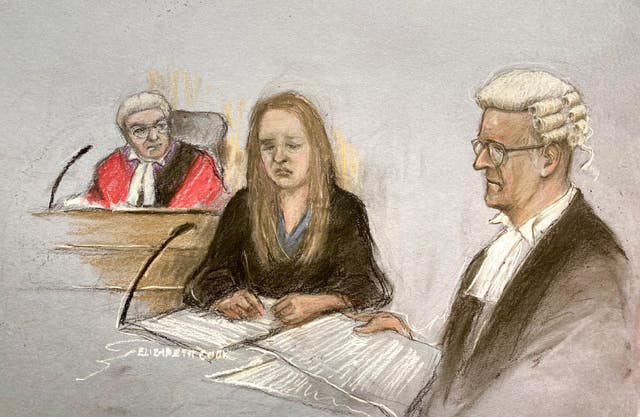 Letby said: "No. I have never attacked any child."
Five of the children – Child C, Child E, Child I, Child O and Child P – all died on the unit, Manchester Crown Court heard.
The defendant, from Hereford, denies murdering seven babies and trying to murder 10 others between June 2015 and June 2016.
On Thursday, Mr Johnson reminded Letby of a statement to the court given by the father of Child H, who she allegedly tried to murder twice on successive night shifts in September 2015.
Child H's father said he left the unit with his mother-in-law before midnight on September 25 only to receive a phone call hours later to say his daughter was ill.
Mr Johnson put it to Letby that the deterioration was caused by her removing a chest drain – a tube to assist breathing – from Child H.
The prosecutor said: "You were sabotaging (Child H) weren't you?"
Child H went on to suffer a cardiac arrest just after 3.05am, the court heard, and needed CPR and doses of adrenaline "to bring her back".
Towards the end of the night shift her condition had improved, the court was told.
Mr Johnson said: "So having been at the brink of fatal collapse about three or four hours earlier, she had made a miraculous recovery?"
Letby said: "Yes."
Mr Johnson asked: "Were you pleased?"
Letby said: "Of course I was pleased."
Mr Johnson said: "Or were you frustrated that your attempt to kill her had failed?"
Letby said: "No."
Child H's father had stated to the court his daughter was "OK" during the day shift of September 26.
He recalled that "quite late on" he went to the parents' room on the ward to get some sleep.
He said: "Shortly after, we got a knock on the door to say she had deteriorated and that she needed medical attention and for us to go to her bedside."
Once again Child H needed resuscitating and again she recovered, the court was told.
The prosecutor accused Letby of attacking another baby girl, Child I, when her mother left the nursery.
He said she tried to kill the infant on September 30 by force-feeding her milk and air while Child I's mother had left the unit to pick up her other children from school.
Letby allegedly tried again to murder Child I in the early hours of October 13 after the infant's designated nurse said she asked Letby or another colleague to "keep an eye" on the baby while she was in a different nursery.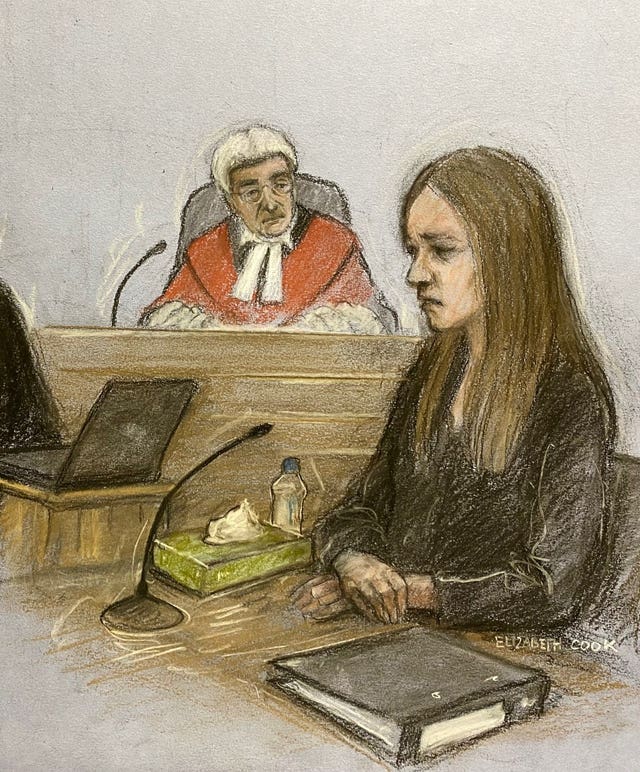 She said Letby was standing in the doorway when the defendant pointed out she thought Child I looked pale.
Miss Hudson said she was in the room and was closer but could not see Child I's face as the top half of the cot was obscured by a canopy.
Letby told the court there was always enough light in the unit to illuminate the nursery and added she had more experience than Ms Hudson and "knew what I was looking for".
Mr Johnson asked Letby: "How long after arriving did you notice that (Child I) looked pale?"
Letby said: "I can't put it into time but it was very quick."
Mr Johnson said: "You have noticed it straight away and the reason you had was you had caused what you had reported to notice."
"No," said Letby.
The Crown say Letby had inserted air into Child I's nasogastric tube.
The defendant is said to have later murdered Child I at her fourth attempt weeks later.
Letby denies all the allegations.
The trial continues next Tuesday.