The Queen fed a Polo mint to a retired racehorse on a visit to the British Racing School to mark its 40th anniversary.
The training centre on the outskirts of Newmarket, Suffolk – the headquarters of British horseracing – was opened by King Charles in 1983, when he was still the Prince of Wales.
On Thursday, Camilla arrived by helicopter to the facility before being driven up to the buildings in a dark-coloured Audi.
Wearing a green multi-print dress by designer Fiona Clare and a blue scallop jacket by Bruce Oldfield, she took time to speak to staff and students on a tour of the school.
While inside the John Pearce Barn, a 16-horse barn opened last year, she said "I've forgotten my Polos" as she stroked the nose of retired racehorse Percy Toplis.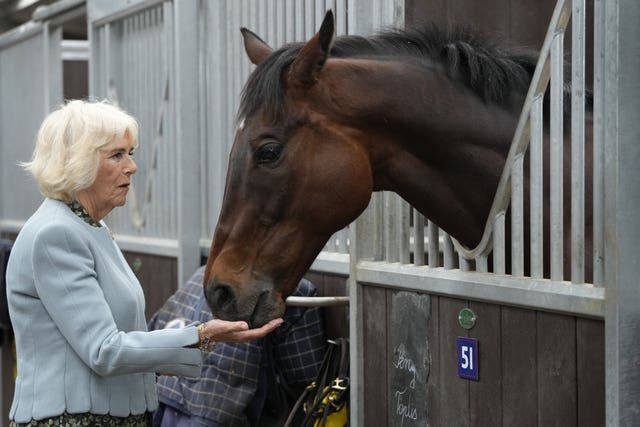 Camilla, 75, said to the nine-year-old horse "are you a Polo donkey?".
She then held her hand up to him so he could eat a mint from it, before she smiled and said: "happy Percy".
Ms Polley said afterwards: "She said 'I normally have a Polo mint on me' because she's obviously a great lover of horses and has that understanding.
"I then always have a Polo mint on me and gave her what was in the packet.
"She very gently gave Percy the Polos."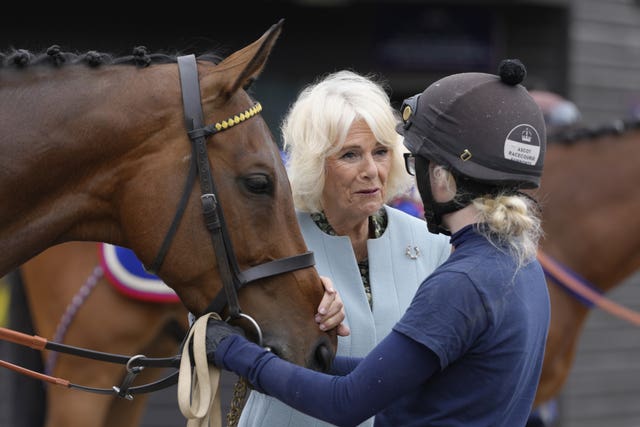 "She was very interested that one of my students was on the Prince's Trust last March.
"She spoke to everyone in turn asking them if they were enjoying the course, what they were up to, had they fallen off, what they liked, what they didn't like.
"She shook every student's hand, which was absolutely beautiful.
"It meant so much."
Camilla saw horses being groomed, and she got into a minibus to be driven alongside horses that they were ridden down the straight gallop by students.
Camilla unveiled a plaque at the centre to a round of applause and was presented with a framed watercolour picture of two horses training, before she left by car.
The flagship programme of the British Racing School is an apprenticeship for 16-to-25-year-olds called the Foundation Course, which prepares young people for jobs as stable staff, riding and looking after the sport's racehorses.
To date, some 4,000 young people have successfully completed the course and gone onto work in the industry.
This includes some of the world's top jockeys and every Champion Apprentice jockey from the past 10 years.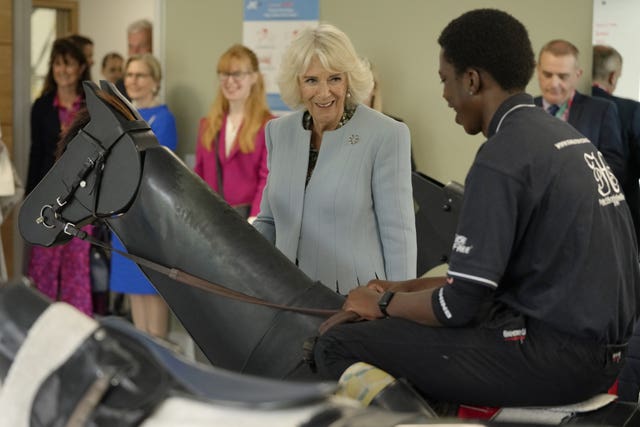 It is also the base of the Riding A Dream Academy which works to increase diversity and inclusion within the sport.
Camilla was originally due to carry out her visit to the British Racing School in March of this year but weather disrupted her travel plans.
Her visit on Thursday was the rearranged engagement.