Argentine investigators think they have found the body of a protester whose disappearance more than two months ago prompted large demonstrations, officials said.
Coast Guard divers discovered the body in a river in southern Argentina and an investigator involved said there are reasons to believe it is Santiago Maldonado.
He said Mr Maldonado's national identity card and a jacket that a witness said he was wearing when he went missing were found with the body.
The details about the ID and the jacket were later confirmed by family members during a news conference, but they said they had not yet identified the body.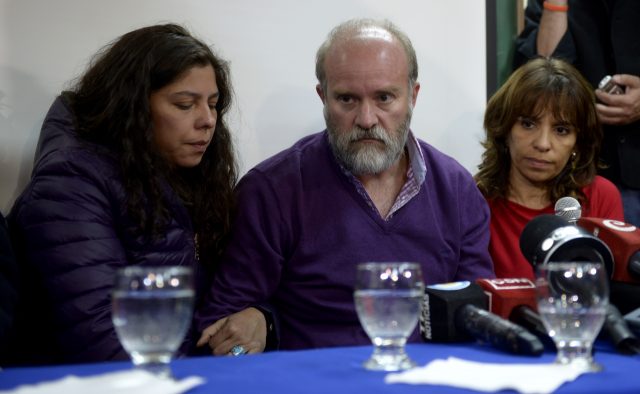 "Right now, we can't confirm if it's Santiago's body or not," said Mr Maldonado's brother, Sergio Maldonado. "Until I'm 100% sure, I'm not going to confirm it, even when we have some of his personal belongings."
The body was found near the location of the protest August 1, when Mr Maldonado was last seen. Protesters were demanding the release of a jailed Mapuche indigenous leader and the return of lands belonging to Italian clothing company Benetton that are claimed by the Mapuche as their ancestral territory.
People at the protest said they saw police beat and detain Mr Maldonado after he and others blocked a road in Chubut province, about 1,100 miles south-west of the Argentine capital.
Police never confirmed the arrest and denied wrongdoing.
But the case struck a chord in Argentina, where thousands died or were forcibly disappeared during the 1976-1983 military dictatorship.
Mr Maldonado's disappearance prompted tens of thousands to protest and led to expressions of concern by international rights groups.
U2 lead singer and social activist Bono raised the issue last week with President Mauricio Macri, whose government has been accused by some rights groups of being part a cover-up.
Federal Judge Gustavo Lleral told journalists the body had been found after an "ardous" search of the Chubut river. Mr Lleral said he could not provide details about the state of the body or any other information out of respect for Mr Maldonado's family.
The discovery led political parties running in a mid-term election on Sunday to suspend campaigning. Politicians from opposing parties had demanded the safe return of the 28-year-old artisan and tattoo artist.
Some had accused Mr Macri's government of failing to act in the case. Mr Macri has yet to comment on the discovery of the body.
A lawyer for Mr Maldonado's family said the body will be transferred by plane to Buenos Aires for identification on Wednesday or Thursday.