US President Joe Biden has insisted that the nation's banking system is safe, seeking to project calm after the collapse of two banks stirred fears of a broader upheaval and prompted regulators to offer emergency loans to banks to stave off additional failures.
"Your deposits will be there when you need them," Mr Biden said.
Despite the message from the White House, investors continued to dump shares in bank stocks.
Shares of First Republic Bank plunged more than 70% even after the bank said it was accessing emergency funding from the Federal Reserve as well as additional funds from JPMorgan Chase.
It was the second largest bank failure in US history, behind only the 2008 failure of Washington Mutual.
New York-based Signature Bank also collapsed in the third-largest failure in the US.
Speaking from the White House shortly before a trip to the West Coast, the president said he would seek to hold those responsible accountable, and he pressed for better oversight and regulation of larger banks.
He promised that no losses would be borne by taxpayers.
"We must get the full accounting of what happened," he said.
"Americans can have confidence that the banking system is safe."
Mr Biden also said the managers of the banks should be sacked.
International regulators also had to step in to ease investor fears.
The Bank of England and UK Treasury said they had facilitated the sale of a Silicon Valley Bank subsidiary in London to HSBC, Europe's biggest bank.
The deal protected £6.7 billion of deposits.
Under the plan announced by US regulators, depositors at Silicon Valley Bank and Signature Bank, including those whose holdings exceed the 250,000 dollar (£205,000 )insurance limit, will be able to access their money on Monday.
Under a new Fed programme, banks can post those securities as collateral and borrow from the emergency facility.
The Treasury has set aside 25 billion dollars (£20.5 billion) to offset any losses incurred.
Fed officials said, however, that they do not expect to have to use any of that money, given that the securities posted as collateral have a very low risk of default.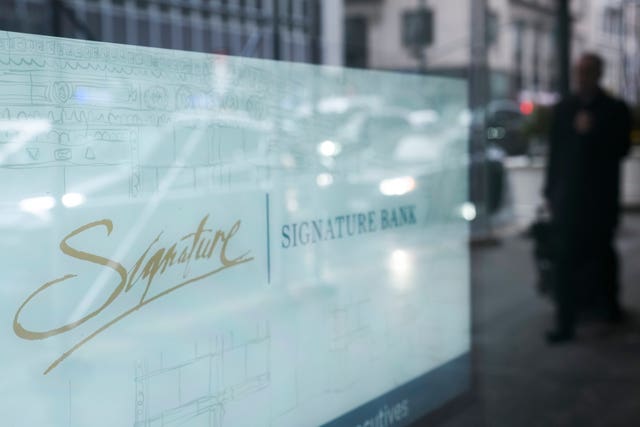 New York governor Kathy Hochul described the decision by the state Department of Financial Services as aimed at holding off a bigger crisis involving more banks.
"Our view was to make sure that the entire banking community here in New York was stable, that we can project calm," Ms Hochul said at a news conference on Monday.
She said a high volume of withdrawals that began last week continued with online transactions through the weekend.
The bank remained open on Monday.
Signature, which was founded more than two decades ago, has about 40 offices across the country and says it focuses on banking for privately owned businesses, their owners and senior managers.
Though Sunday's steps marked the most extensive government intervention in the banking system since the 2008 financial crisis, the actions were relatively limited compared with 15 years ago.
The two failed banks themselves have not been rescued, and taxpayer money has not been provided to them.
Stock prices plunged over the last few days at other banks that cater to technology companies, such as First Republic and PacWest Bank.
Among the bank's customers are a range of companies, including many California wineries that rely on Silicon Valley Bank for loans, and technology start-ups devoted to combating climate change.
Tiffany Dufu, founder and chief executive of The Cru, a New York-based career coaching platform and community for women, posted a video on Sunday on LinkedIn from an airport, saying the bank crisis was testing her resiliency.
Given that her money was tied up at Silicon Valley Bank, she had to pay her employees out of her personal bank account.
With two teenagers to support who will be heading to college, she said she was relieved to hear that the government's intent is to make depositors whole.
"Small businesses and early stage start-ups don't have a lot of access to leverage in a situation like this, and we're often in a very vulnerable position, particularly when we have to fight so hard to get the wires into your bank account to begin with, particularly for me, as a black female founder," Ms Dufu said.