The US guardsman accused of leaking highly classified military documents kept an arsenal of weapons, talked of "violence and murder" on a social media platform and an "assassination van" prosecutors said.
It comes ahead of a hearing for 21-year-old Jack Teixeira on Thursday.
The court filings raise new questions about why Teixeira had such a high security clearance and access to some of the nation's most classified secrets.
They said he may still have material that has not been released.
It also temporarily removed each leader's access to classified systems and information.
Court papers urging a federal judge to keep Teixeira in custody detailed a troubling history going back to secondary school, where he was suspended when a classmate overheard him discussing Molotov cocktails and other weapons and racial threats.
More recently, prosecutors said, he used his government computer to research past mass shootings and high-profile standoffs with federal agents.
He remains a grave threat to national security and a flight risk, prosecutors wrote, and investigators are still trying to determine whether he kept any physical or digital copies of classified information, including files that have not already surfaced publically.
"There simply is no condition or combination of conditions that can ensure the defendant will not further disclose additional information still in his knowledge or possession," prosecutors wrote.
"The damage the defendant has already caused to the US national security is immense. The damage the defendant is still capable of causing is extraordinary."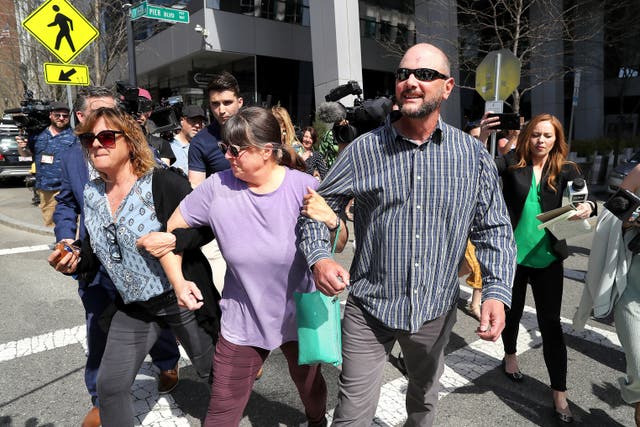 Prosecutors said Teixeira's lawyers have indicated they will urge the judge to release him to his father's home.
As of late Wednesday, Teixeira's lawyers had not filed court papers arguing for his release.
Teixeira has been charged under the Espionage Act with unauthorised retention and transmission of classified national defence information.
He has not yet entered a plea and his lawyer declined after last week's hearing to speak to reporters.
He is accused of distributing highly classified documents about top national security issues in a chat room on Discord, a social media platform that started as a hangout for gamers.
The leak stunned military officials, sparked international uproar and raised fresh questions about America's ability to safeguard its secrets.
In describing Teixeira as a danger to the community, prosecutors wrote that the suspect, who owned multiple guns, repeatedly "detailed and troubling discussions about violence and murder" on the platform where authorities say he shared the documents.
The Justice Department's filing outlines a pattern of troubling behaviour that officials say began well before he entered the military and continued in recent months, even as his position afforded him access to government secrets.
In 2018, prosecutors allege, Teixeira was suspended after a classmate "overheard him make remarks about weapons, including Molotov cocktails, guns at the school and racial threats".
His initial application for a firearms identification card that same year was denied due to police department concerns over those remarks.
He applied again over the next two years, and cited in his 2020 application after joining the forces "his position of trust in the United States government as a reason he could be trusted to possess a firearm", prosecutors wrote.
The Justice Department said that it has also learned through its investigation that Teixeira last July used his government computer to look up a series of US mass shooting incidents and government standoffs, including the terms "Ruby Ridge", "Las Vegas shooting", "Mandalay Bay shooting", "Buffalo tops shooting" and "Uvalde".
Months later, after news outlets began reporting on the documents leak, Teixeira allegedly took steps to destroy evidence.
Authorities who searched a bin at his home found a smashed laptop, tablet and Xbox gaming console, they said.
Teixeira's detention hearing was supposed to be last week but was delayed at the last minute after defence lawyers said they needed more time to "address the issues presented by the government's request for detention".
Teixeira did briefly appear in court in Boston last week to waive his right to a preliminary hearing.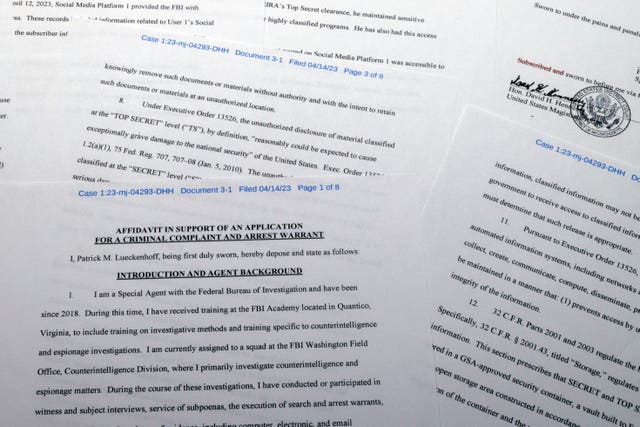 Some show real-time details from February and March of Ukraine's and Russia's battlefield positions and precise numbers of battlefield gear lost and newly flowing into Ukraine from its allies.
Authorities have not alleged a motive.
Members of the Discord group have described Teixeira as someone looking to show off, rather than being motivated by a desire to inform the public about US military operations or to influence American policy.
The Justice Department said its investigation is continuing and the Pentagon said it would conduct its own review of access to sensitive intelligence to prevent a similar leak in the future.
Billing records the FBI obtained from Discord were among the things that led authorities to Teixeira, who enlisted in the Air National Guard in September 2019.
His specialty in the service was as a "cyber transport systems specialist", essentially an IT specialist responsible for military communications networks.
In that role, Teixeira would have had a higher level of security clearance because he would have also been tasked with responsibility to access and ensure protection for the network, a defence official said.
Investigators say Teixeira was the leader of an online private chat group on Discord called Thug Shaker Central, where enthusiasts talked about their favourite types of guns, shared jokes and held a running discussion on wars that included talk of Russia's invasion of Ukraine.
A Discord user told the FBI a username linked to Teixeira began posting what appeared to be classified information roughly in December.
Teixeira was detected on April 6 — the day The New York Times first published a story about the breach of documents — searching for the word "leak" in a classified system, according to court papers.
The FBI says that was reason to believe Teixeira was trying to find information about the investigation into who was responsible for the leaks.