The European economy scraped out meagre growth of 0.1% in the first three months of the year, barely gaining momentum after dodging a winter recession as challenges persist from inflation that corrodes people's willingness to spend.
Friday's less-than-stellar figure follows disappointing growth estimates from the US a day earlier that kept alive fears of a looming recession in the world's largest economy.
The 20 countries that use the euro currency picked up speed in the first quarter after zero growth in the last three months of 2022.
The eurozone avoided a winter recession thanks to mild weather that alleviated pressure on natural gas supplies.
Industrial activity has picked up, and China's reopening from Covid-19 restrictions boosted the outlook for global economy.
The mild weather also allowed an early start to construction activity.
But inflation is holding back consumer spending, with wage increases only partly offsetting how much more people have to pay for groceries, clothing and more.
Interest rate increases by the European Central Bank (ECB) aimed at getting inflation under control will also weigh on growth by making credit more costly for purchases or business investment.
Annual inflation in the eurozone fell to 6.9% in March from 8.5% the month before but is well above the ECB's goal of 2% considered best for the economy.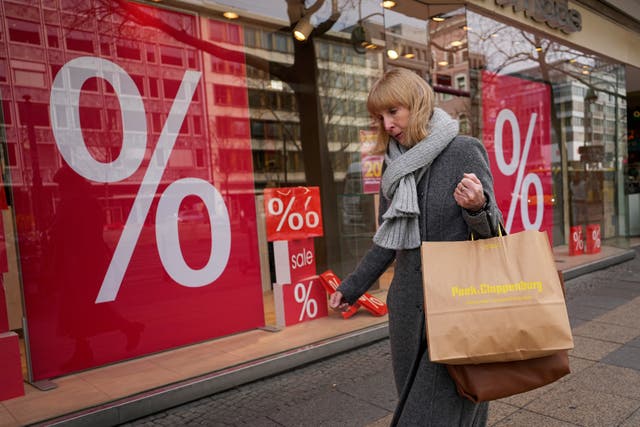 And credit may get even tighter after the failure of Silicon Valley Bank in the US and the forced takeover of Credit Suisse by rival Swiss bank UBS.
The turmoil could increase market and regulatory scrutiny of bank finances and make them less likely to risk lending.
That could help ease inflation but also weigh on economic growth.
While modest expansion is "putting the worries of a winter recession definitively to bed", more persistent inflation will weigh on growth throughout the year, said economist Nicola Nobile at Oxford Economics.
"We expect the eurozone to plod along in the coming quarters in the absence of a strong growth driver, rather than jump-starting a strong expansion," Ms Nobile said.