Too many drivers ignored warnings to avoid non-essential journeys, National Highways suggested as many people spent hours stuck on the M62 in severe weather.
The Government-owned company responsible for England's motorways and major A roads insisted it "threw everything" at keeping traffic moving but struggled due to the volume of traffic and drivers ignoring lane closures.
Asked if too many drivers ignored the weather warnings, National Highways operational control director Andrew Page-Dove told the PA news agency: "I think the volume of the traffic speaks for itself, particularly this morning. The M62 was queued back to Manchester.
"Were all those journeys essential? I don't know.
"I don't think (the warning) was necessarily as well heeded as we would have liked it to have been."
He went on: "As soon as you get vehicles that lose traction, then that just blocks the road and makes it impossible for our traffic officers, emergency services or indeed our snowploughs to get through.
"We threw everything at it that we had and I'm absolutely confident that we did everything we needed to do in terms of treatments, in terms of ploughing.
"It's just the volume of traffic.
"The question for me really is what more can we do to get drivers to really consider whether or not their journey is necessary."
National Highways attempted to keep M62 traffic moving by using just two lanes.
But Mr Page-Dove said some drivers ignored lane closed signs, leading to them becoming stuck.
This "exacerbated" the situation, he added.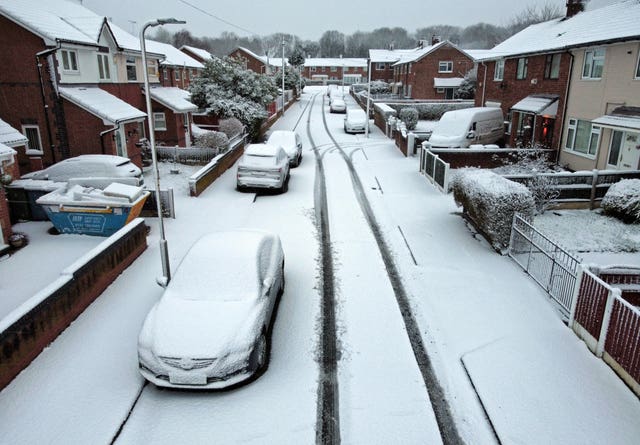 It stated: "There is further snow forecast to affect the cross-Pennine routes: M62, A66 and A69.
"We have issued an alert and would urge drivers to avoid these routes, especially larger HGVs."
RAC breakdown spokesman Rod Dennis told PA: "A substantial amount of snow falling in a very short space of time can quickly lead to problems even if a road has been treated, and it looks like that's what happened on the M62 overnight.
"The situation was made worse by drivers overtaking slower moving traffic only to find themselves stuck in a lane of fresh snow."
He added: "Things are thankfully now improving but the scenes of stranded drivers is the perfect reminder of why it's so important to carry a warm blanket, a winter coat, extra layers, food and drink and a power bank and phone-charging cable."
Derbyshire Constabulary urged drivers not to travel in the Peak District on Friday morning "unless absolutely necessary" as most roads in the High Peak and Derbyshire Dales areas were "impassable".
The force said it was working with mountain rescue teams to respond to reports of stranded vehicles.