Liverpool have been charged by UEFA after Manchester City's team bus was pelted with bottles and cans ahead of their Champions League defeat at Anfield.
Disciplinary proceedings regarding the setting-off of fireworks, throwing of objects, acts of damage and crowd disturbances will be dealt with by UEFA's control, ethics and disciplinary board on May 31.
Despite the incidents taking place in streets surrounding Anfield, Article 16 of UEFA's regulations about order and security at games states "host clubs and national associations are responsible for order and security both inside and around the stadium before, during and after matches".
"No words. Unacceptable," Estiarte wrote alongside his post.
Manchester City manager Pep Guardiola offered a sarcastic response to security staff after their coach sustained significant damage.
At least one window was smashed on the journey through streets filled with thousands of fans, a number throwing flares and smoke bombs, and a replacement vehicle had to be found the trip home after the 3-0 first-leg loss.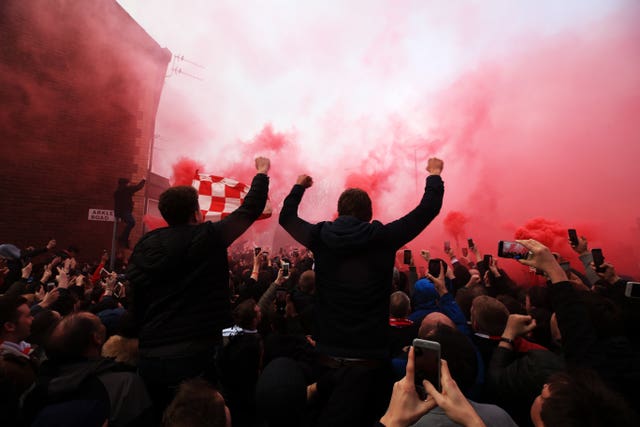 Getting off the bus in the area under the Main Stand the City boss gave the thumbs up to stewards and said sarcastically in Spanish "thanks for protecting us" and then "Shame".
Merseyside Police have appealed for anyone with video footage to send it to them at team.incident@merseyside.police.uk or contact Crimestoppers.
"We worked very closely with both clubs to plan for last night before agreeing the route of the buses to ensure the teams and public were safe before the match," said Match Commander Superintendent Paul White.
"Two officers sustained cuts and swelling – one was struck by an object and another suffered glass cut injuries. It is pleasing to hear that nobody else was seriously injured.
"What should have been a celebratory event for thousands of people was spoiled by a number of people who threw bottles, cans and pyrotechnics.
"Their actions will not be tolerated by Merseyside Police and we will do everything in our power to find those responsible and put them before the courts."
The focus will now inevitably shift, following Wednesday's events, to the Etihad Stadium next Tuesday, and the plans which are in place to avoid any repeat.
Liverpool, who issued a statement of apology on Wednesday, will not say whether they will take extra steps to ensure the safety of their coach and players, but it is understood they are likely to have talks
on the matter before the match.
"The club doesn't comment on any additional or exceptional security and safety measures implemented as pertains to its employees," a Liverpool spokesman told Press Association Sport.
"This applies to matters involving first-team travel plans also."
Arrangements for team arrivals at the Etihad Stadium are slightly different to other grounds, although both arrive on 'protected' routes.
The home coach pulls up outside the main reception for the players to receive an organised and staged blue carpet reception from supporters. The away bus arrives at a separate location some distance away from where home fans congregate and has a private entry into a tunnel under the stadium.
Press Association Sport understands, at this stage, there are no plans to put in place any additional measures.