David Haye says not acting like a "lunatic" in the build-up to his rematch with Tony Bellew will bring about a different result at the O2 Arena.
An injured Haye was surprisingly defeated in their first fight in March 2017 when Bellew stepped up two weights and produced an 11th-round stoppage.
The build-up to that bout was marred by bad blood, with the two trading insults and even punches at their pre-fight press conference. Haye was also reprimanded for his comments saying he would "legally do as much damage as I can inflict".
"There is no drama whatsoever and it has been nice not to have that negative energy," he said at a media lunch at the Park Plaza in London.
"I remember prior to the first fight I wasn't in the right head space, I wasn't in the right frame of mind.
"It might have been the right frame of mind for people to be interested in the fight, because I was doing and saying crazy things so it seemed like I was a lunatic and people really seemed to like that.
"I have reined it in. The first time around I screamed and shouted because I believe the fight needed that. I embraced the hype way too much.
"But when you have got all the beef, when he's coming at me, kicking Toblerones, swearing at me…although we were both saying some horrendous things, it made people tune in and watch the fight.
"Fortunately, this time, off the strength of the first fight, I don't need to scream and shout, I can let my boxing do the talking.
"He loves an argument, he would argue with himself in the mirror, he is just an argumentative human being, always angry.
"He is just a ball of hate and I somehow allowed myself to get into that 'hate zone' with him, he is a natural born hater and I am not really.
"So this time he can do all the moaning."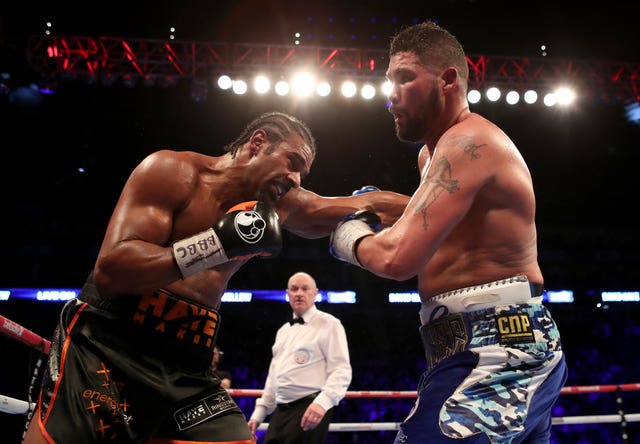 To be able to do that, though, he accepts he needs to put on a polished show against Bellew.
He added: "If I want to achieve the very best in the division and win the titles, this fight against Tony Bellew can't be a 50-50 fight, I can't be getting knocked down, cut, hurt because if I can dispatch Tony Bellew in real clinical fashion then what's it all about?"