Kieran Trippier described his part in England's penalty shootout win over Colombia as "the best feeling of my career".
The Tottenham wing-back was among the best players on the pitch as Gareth Southgate's side were held 1-1 over 120 fractious minutes in Moscow.
He then played his part at a crucial moment of the shootout, converting England's fourth in between two Colombian misses.
The 27-year-old has been a consistently classy performer en route to the World Cup quarter-finals and his emotional reaction to the finale at Spartak Stadium has been well earned.
"I couldn't be happier for the team and for the whole country, the fans, everyone involved," he said. "It's just an unbelievable feeling, the best feeling of my career.
"To be part of this team is an unbelievable feeling. The spirit in this team is incredible. I love this team. We all feel the same, we're passionate about this team."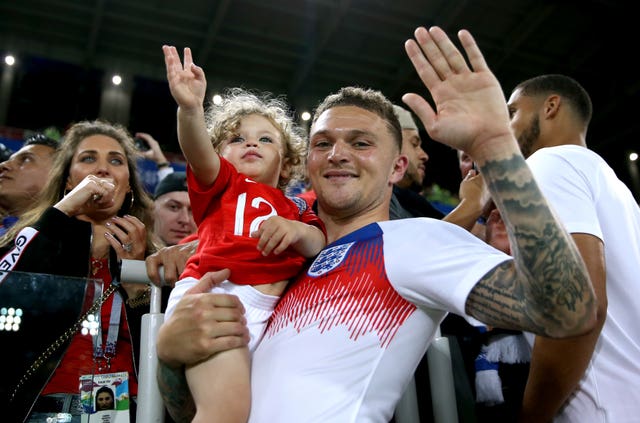 But victory from the spot, confirmed when Eric Dier squeezed home the winning kick, is a major psychological boost for a nation who had only won one of their previous seven penalty deciders.
"I felt confident and comfortable as I walked up to take the penalty," said Trippier.
"People go on about if England get to a penalty shootout we won't win but we really do block all that out. We just focus on ourselves.
"We know how much ability we have and we believe in ourselves. We stepped up today and we're delighted we got it over the line."
Dele Alli appeared to be playing through the pain barrier for much of the game and watched the late drama unfold from the sidelines after making way late in the second half.
He has already missed two games in Russia with a thigh injury but described his condition as "all good".
Speaking afterwards, he shone a light on Jordan Pickford's fantastic penalty save from Carlos Bacca.
Pickford has yet to keep a clean sheet at the tournament and was under the microscope following defeat to Belgium last week, but he took his shot at a starring role.
"It was a great save and he's a phenomenal keeper," said Alli.
"He showed he's a top-class keeper. Every man had to show his worth and Jordan Pickford definitely did that."