Scotland manager Alex McLeish described his new captain Andy Robertson as "absolutely inspirational" ahead of the friendly against Belgium.
The 24-year-old Liverpool left-back was let go by Celtic as a youth player before making his way to Anfield via Queen's Park, Dundee United and Hull and will wear the armband against the Red Devils on Friday.
The game at Hampden is preparation for the Nations League opener against
Albania at the same venue on Monday night.
"He hasn't only nailed his position he has got better and better.
"Every week I see him on television he is making goals from left, right and centre. He is almost like an extra attacker.
"But for the man himself, for young players, it is absolutely inspirational. For players who were told at nine and 10 – and I don't know why that happens sometimes – that they will never make the grade and get scunnered by the game and walk away from it.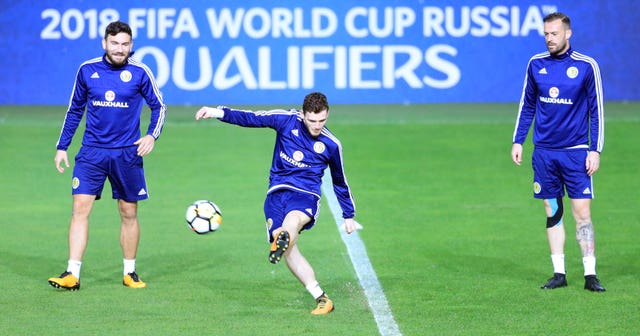 "He kept going, he persevered and became the player that he is but he also carries himself well in the dressing room. He talks well, assertively, and the players look up to him."
McLeish is set to give Hearts defender John Souttar his debut against the Red Devils.
The Scotland boss only has 21-year-old Souttar and the experienced Charlie Mulgrew as natural centre-back options and he spoke about using Celtic left-back Kieran Tierney in the left side of a back three.
McLeish said: "Kyle Walker wasn't accustomed to playing centre-back on his right for England.
"I think Tierney can adapt really well. He is a super player and he know how to drift out to left-back if Robertson moves forward . He is a solid defender and it is another part of his education.
"I believe he is versatile enough to play that position.
"Charlie has got a lot of experience so he will be able to speak to them and he will be admiring of their qualities as well.
"He can help guys like John Souttar and Kieran Tierney, who is learning very nicely. "
McLeish is preparing to play "probably the best team in the World Cup to watch" and his attitude towards playing such a high-level opponent is "for us to get better we have to play the better teams."
However, the visit of Albania is the more important game for the Scots, who have not qualified for the finals of a major tournament since the 1998 World Cup in France.
McLeish admitted that Shelley Kerr's women's side lay down the gauntlet to their male counterparts by qualifying for the World Cup finals in France with a 2-1 win in Albania on Tuesday.
He said: "I must congratulate Shelley, her staff and players for an absolutely phenomenal achievement.
"Shelley works ever so hard and I am really pleased for her that she has got those girls to the finals and it is a very proud week for Scotland in that respect. It lays down the gauntlet for the men."