Manager Jurgen Klopp is confident Liverpool have had enough recovery time to avoid the European hangover that troubled them last season.
The Reds enjoyed another memorable Champions League night on Tuesday, following up last season's run to the final with a dramatic 3-2 win over French champions Paris St Germain.
The only concern is a possible knock-on effect on their domestic form after the Reds drew six times in the games following European outings last season, including with Newcastle, Burnley and relegated Stoke.
Research by Press Association Sport showed that over the last five seasons, they have averaged 1.42 points per game following main-draw fixtures in the Champions League or Europa League, compared to 1.84 in their other league games.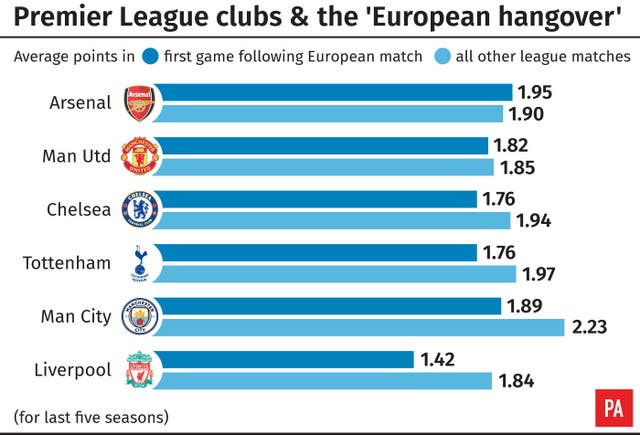 "Finally somebody comes with a negative!" he joked when last season's record was put to him.
"It's always difficult when one team plays in the week and the other one doesn't. In this case, Southampton played on Monday night so only had a day more than us to recover.
"Tuesday-Saturday should not be a problem. I am pretty sure it will not be a problem focus-wise, but we need to prove that.
"To be ready for this game, it's not important what we did last year or whatever. Nobody is tired in the moment. It's a perfect break. We will be ready tomorrow."
Manchester City are the other member of the Premier League's 'big six' to have struggled most in the games following European fixtures over the last five seasons, dropping from 2.23 points per game to 1.89.
They overcame that problem on their march to the title last season, though, winning nine games out of 10 when they had played in the Champions League in the week beforehand.
"Last season we did almost everything well. I've said many times we cannot forget what we've done, but it's done.
"You have to be able to handle that. Most of the players went to the World Cup, most of the players go to international breaks. You play every three days.
"That is what it is. If you want to stay as a manager and football player you have to accept it."
Tottenham and Chelsea have also had a noticeable dip after Champions League exertions, averaging 1.76 points per game – Spurs averaged 1.97 in their other fixtures over the five years, and Chelsea 1.94.
Manchester United slipped only from 1.85 to 1.82 while Arsenal actually improved slightly, from 1.90 to 1.95.