Arsenal boss Jonas Eidevall cautioned against implementing kneejerk solutions to the Women's Super League's frozen pitch postponement problems, despite admitting they were "really bad advertising" for the game.
The Gunners' trip to Brighton was one of three WSL matches called off on a controversial weekend that also saw Chelsea's contest with Liverpool abandoned after just six minutes, a particularly heavy blow to the Reds supporters who left Merseyside at 5am for the trip to London.
Injured Arsenal forward Vivianne Miedema was among the many top-flight players and managers to demand change, on Sunday tweeting: "Players' safety should always come first. Luckily no one got injured today. Only way to fix this is to demand undersoil heating or playing our games in men's stadiums. FA and clubs please do better."
Eidevall's opinion differed somewhat from his striker as he said: "I think the easy thing is always to try to fix the topic of the day. I completely agree with (Chelsea boss) Emma (Hayes) what happened in that game and to play those minutes was really bad for the league.
"That's not going to be good for women's football. We need to take really, really good decisions of where the investments should be going in order to grow the game long term, and I'm very doubtful that that should be put into undersoil heating at the moment."
Eidevall admitted finding a solution over the next few seasons could prove challenging, acknowledging the commercial incentive for January WSL football also plays a factor in why games in the first month of the year might be a necessity.
He said: "I think it's the difference between short term and long term. Short term, early communication is the key because it saves fans money and time for not travelling to grounds. But I also think from a league perspective it also saves us from not seeing pictures like we saw from Chelsea v Liverpool, which is obviously I think really bad advertising for women's football and the WSL.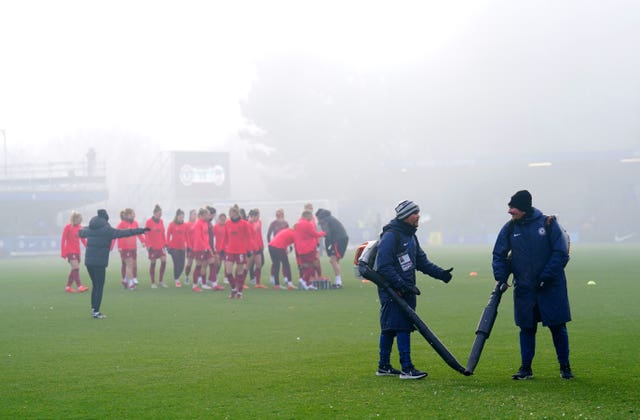 Eidevall's third-placed side next host Aston Villa in their Continental Cup quarter-final.
While Arsenal have explored moving Thursday's contest to the Emirates Stadium, the club stated it "was not feasible due to essential pitch maintenance".
Thursday's forecast predicts another cold evening, with temperatures hovering around six degrees in London. Arsenal hope to avoid any embarrassing scenes or unnecessary travel by carrying out a pitch inspection at Meadow Park at 12pm on Thursday where a final decision will be made, well in advance of the 7:45pm kick-off.
Eidevall said plans for the women's side "to be at the Emirates permanently" were part of the club's overall ambitions, but it was too soon to immediately implement any kind of any marquee stadia requirements throughout the top flight.
"That's something you have to look into but that's long term," he said. That's not something that we can do tomorrow, but it's something that could be done, in say the next five years, in order to say this is the requirement and it's going to be effective from this date and now everyone has a set amount of time where you can meet them.
"And if you want to play in the league then you have to fulfil these requirements, which I think is sensible. I think all professional leagues around the world have stadium requirements, so it's just for the league to set them."