Matthew Mott believes the England contingent about to head off to the Indian Premier League have a fantastic chance to make an irresistible case for World Cup selection.
England's next white-ball assignment is not until September, and they are likely to only have one match before announcing a 15-man squad for the defence of their 50-over World Cup crown the following month.
According to their limited-overs head coach, competition for a spot on the plane to India will be intense and he has urged any hopefuls to push their claims in various domestic T20 franchise leagues.
While several players are certainties if fit to be in the World Cup squad, there are others such as Phil Salt, Will Jacks and Reece Topley who can advance their cause by excelling in Indian conditions.
"The IPL has a huge bearing on the World Cup," said Mott. "The IPL in particular is renowned as one of the best competitions in the world, you've got all the best players playing in those conditions.
"We'll be watching really closely how our guys go. It's a long time before our next game, there's a lot of opportunities for players to put their hands up.
"We know it's going to be an incredibly hard 15 to pick. There will be a lot of players disappointed in that group because once they're all fit, it's going to be hard to squeeze them all in."
After England won two of the three ODIs and gained a feel for the subcontinent conditions they might experience in India at the World Cup, the T20 series slipped under the radar and they were without several key players while the withdrawals of Jacks and Tom Abell left them with just 13 individuals.
"It'll be quite raw," said Mott. "I don't think we did ourselves justice. Pointing that out is not going to make anyone better just yet.
"We'll be sure that we have those conversations in due course when we get in and around the players and have had a bit of time to digest it.
"We've got a big break for a while so we'll try to get them freshened up and ready for their next adventures."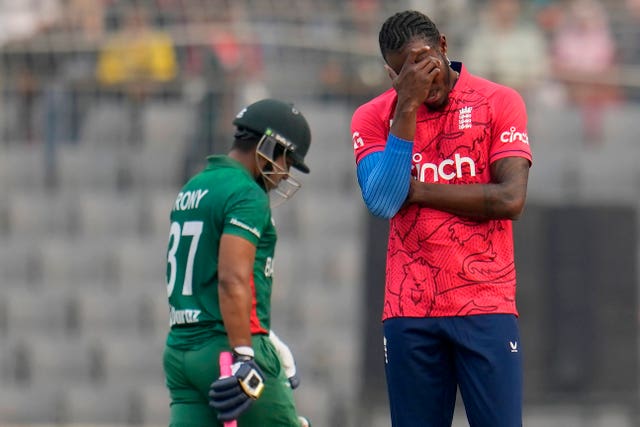 One of the reasons for this is that the competing schedule demands on all-format stars has meant England have regularly had to tap into the reserve talent pool.
But while the overarching goal is to be as prepared as possible for global events, Mott insisted that does not mean his side should be shrugging off series defeats.
"I don't think we ever want to accept losing," said Mott, who took pride in his England side handing Bangladesh their first ODI series defeat at home since 2016.
"We came here to win the series. We won the ODI series, I thought that was an exceptional effort. The history of teams coming here and winning is quite low so we're proud of that.
"The T20s we're disappointed with, and I think we had a good enough team to win here. I don't think there was a massive gap in the playing of both XIs, but the facts are we lost."