Tiger Woods has undergone successful ankle surgery to treat arthritis caused by a previous injury.
The 47-year-old had to pull out of the Masters midway through the third round earlier this month, which he attributed to plantar fasciitis.
But he had an operation on Wednesday in New York, with the surgeon performing a subtalar fusion procedure to address the problem caused by a previous fracture of his talus – a bone in the ankle joint.
He now looks highly likely to be out of next month's US PGA Championship and questions will again be raised about how long the 15-time major champion can continue to compete at the highest level.
A statement on Woods' social media channels read: "Earlier today, Tiger underwent a subtalar fusion procedure to address his post-traumatic arthritis from his previous talus fracture.
"It was performed by Dr Martin O'Malley at HSS Sports Medicine Institute in New York City. He has determined the surgery to be successful.
"Tiger is currently recovering and looks forward to beginning his rehabilitation."
Woods feared his leg would have to be amputated due to the serious injuries he suffered in a car accident in Los Angeles in February 2021.
He made a remarkable return to action 14 months later and finished 47th in the Masters, but withdrew from the US PGA following a third-round 79 and did not contest the US Open before missing the cut in the 150th Open Championship at St Andrews.
Woods has accepted that he can only play a handful of times a year going forward and is targeting majors and events with which he has a personal connection.
The US Open takes place at Los Angeles Country Club in June and Woods will hope to defy the odds and be able to compete in July's Open at Royal Liverpool, where he won a third Open title in 2006 and his first tournament since the death of his father Earl two months earlier.
Speaking before Woods released news of his surgery, R&A director of corporate communications Mike Woodcock was asked about the prospect of Woods competing in front of what will be a crowd of 260,000, a record for an Open not at St Andrews.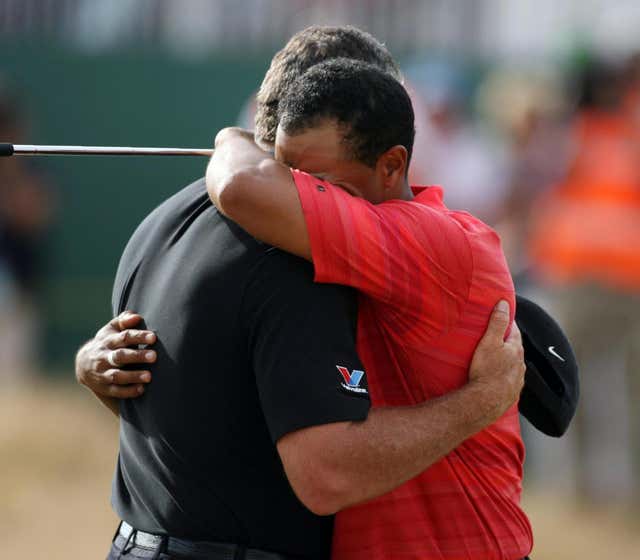 "We'll have to wait and see how he is, but he makes a huge difference to any championship he's in and we'd love to see him here."
Asked in his pre-Masters press conference what had been the key to his numerous comebacks from serious injuries, Woods said: "Stubbornness.
"I believe in hard work and I believe in getting out there and getting out of it what you put into it. I've certainly had my share of adversity physically and had multiple surgeries and I've had to come back and work through that.
"Those were tough. They were never easy. But it's just the overall desire to win has always been there, and I've always worked at it and believed in what I could do."