England boss Sarina Wiegman fully accepts the significant part she now plays in persuading more women and girls to pursue coaching careers.
Much has been said about how the Lionesses' Euro 2022 triumph has galvanised girls like never before, sparking an uptick in player registrations and driving fans in record numbers to Women's Super League and Champions League matches.
But less-celebrated developments in the dugout could prove just as significant, with a November FA report revealing that the number of female coaches working in affiliated teams grew 75 per cent between October 2021 and 2022 – at least a partial credit, most likely, to the enormously popular England head coach.
"We want more female coaches in sport, and I did get a [positive] response from the Euros," Wiegman told the PA news agency.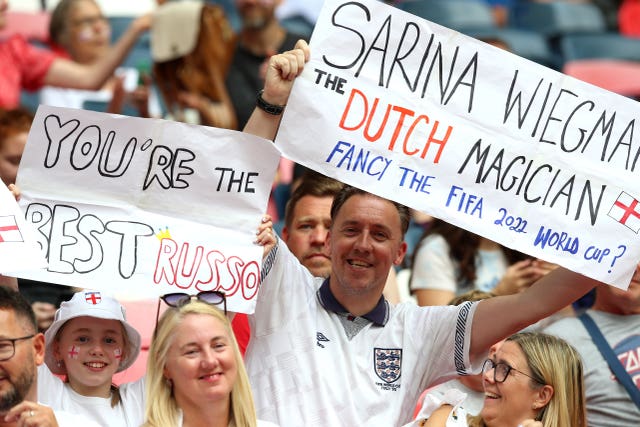 "I'm just trying to do my best, and I am very visible and trying to stay myself and do the job as good as I can and try to connect with people.
"I don't think 10 years ago I was a role model. Well, maybe for my daughters, I hope! But we weren't visible. The game improved. I worked with the Dutch national team and then with England. You become visible, then you come in that position, so you have to raise it because it's now part of the job.
"I do focus on my job. I think that shows the best of who I am and what I do."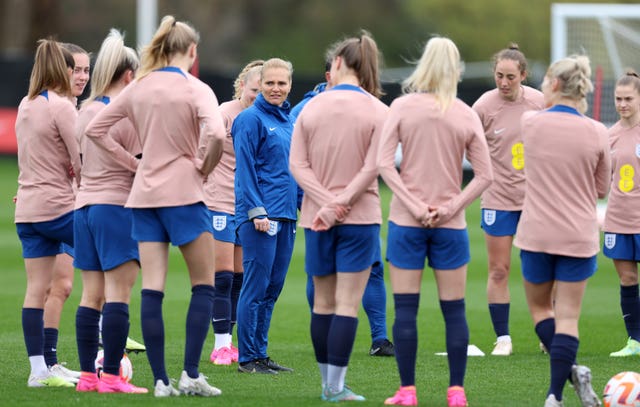 The former Netherlands boss steered England to their first major trophy at last summer's Euros, becoming the first coach to win back-to-back European championships with two different countries in the process. In three months' time the Lionesses will begin their quest for a maiden global title.
It would also be a first World Cup trophy for Wiegman, who came close at the last edition in France when the Netherlands were defeated by the United States in the final – a best-ever finish for the Oranje Leeuwinnen.
The stats for female coaches across sport, however, still leave room for improvement.
Wiegman's predecessor, Hege Riise, was part of a considerable minority – just 13 per cent – of female coaches accredited in any sport when she took Team GB to the Tokyo 2020 Olympics, while only five of the 12 current managers in the WSL are women.
Wiegman was speaking from St George's Park where she had just surprised the Meerkats Under-12 grassroots side, winners of Nationwide's Mutual Respect Award, with a coaching session at England's football HQ.
Girls from the Shrewsbury club, who raised £21,000 for a team-mate's ill father, were also given the opportunity to question the England boss, with many curious about her career path.
Perhaps unsurprisingly, Wiegman's philosophy for those wanting to follow in her footsteps sounds very much like a game-plan for how the Dutchwoman would line up against historic underrepresentation.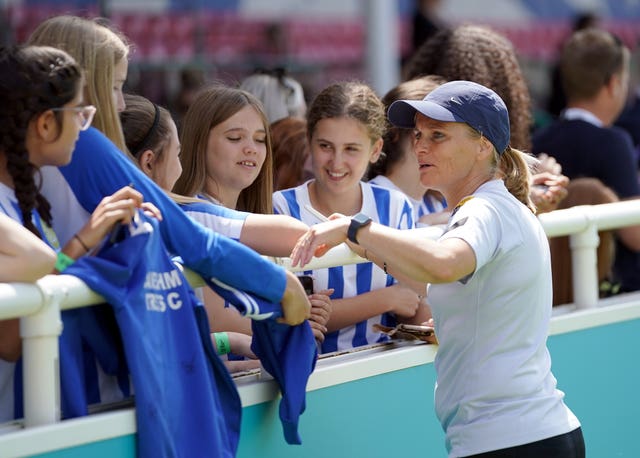 "And now with the growth of the game, more women come in and I always say what we have to do is, when you're 2-1 down, push a little more to get to 2-2. I think it will develop as more women come into the game, but still there is a big difference.
"You need to push a little more and do extra things to inspire women, but also reinforce them and encourage them. When you're behind, I think you need to do some extra work and that's what the FA does. I hope I'm a little inspirational, and people go: 'Oh, I'm going to coach too.'"