Exeter boss Rob Baxter has dismissed reports that England hooker Luke Cowan-Dickie's move to French champions Montpellier is under threat.
Cowan-Dickie has been sidelined by an ankle injury since early January, while he is also understood to be suffering from some nerve issues in his neck.
It has been suggested that 29-year-old Cowan-Dickie missed a recent medical in France, riling Montpellier chiefs, who have also signed his Exeter and England colleague Sam Simmonds for next season.
"I think he is popping over again just to finish off a couple of bits the French would like to investigate in terms of his injuries.
"He hasn't failed a medical and he hasn't not turned up for a medical.
"I am not saying it is totally pie in the sky because everything has a little bit of truth in it. But as far as he has not turned up and they've rolled up the contract and thrown it away, that is not the case.
"I believe they (Montpellier) want some more information on the nerve damage around the last operation.
"All I know is Luke has said there has been a fair bit of over-hype around everything. At this stage, Luke is being told everything is okay. Reports it is all done and his contract is over couldn't be further from the truth."
Cowan-Dickie is among a number of Exeter players leaving the club this summer, although Chiefs would step in if the Montpellier deal fell through.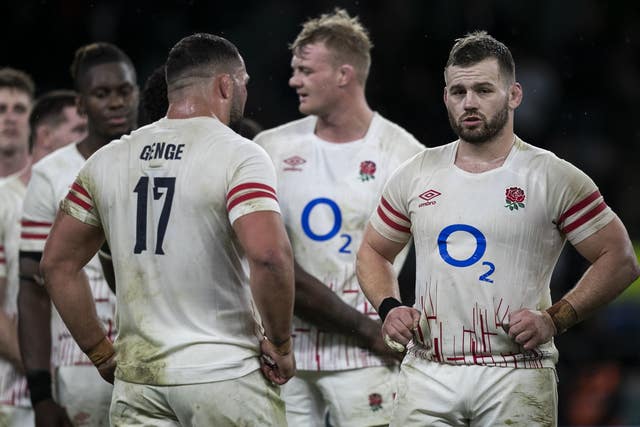 "He has been a very important player for us, he has played in some significant games for us. We would look to do something to look after him, of course we would.
"The nerve issue is a timescale one. Historically, they can take a long time or you can recover quickly. It is a bit 'how long is a piece of string'?
"I know England are investigating if there is anything they can do to speed up the process, as we are, but it is not a problem that has a definitive answer."
Chiefs' England wing Jack Nowell, meanwhile, is set to be involved in Sunday's Heineken Champions Cup semi-final against La Rochelle in Bordeaux after recovering from a knee issue.
It will also be Nowell's first appearance since he was charged with conduct prejudicial to the interests of the Rugby Football Union and the game after his Chiefs team-mate Olly Woodburn received a second yellow card in Exeter's 62-19 Gallagher Premiership defeat against Leicester.
Woodburn had dived on Chris Ashton on the floor and upon seeing referee Karl Dickson's decision, Nowell said in a since-deleted tweet: "I'm actually in shock, like shock shocked. What the hell is happening? That's one of the worst decisions I've ever seen. EVER."
The England wing accepted the charge at a disciplinary hearing and was fined £10,000.
Baxter said: "He is a bit disappointed and frustrated with what happened around his tweet. It was one of those scenarios where he has used incorrect language to express a frustration with the game.
"Anyone who knows Jack, and knows his relationship with referees, will know there was nothing in there personally targeted at the ref.
"It can end up looking like that, he is aware of that, he has apologised for what he did and he has just got to get on with things now.
"It is a lesson for other players that sometimes you can react in the heat of the moment. You have just got to be careful what you say."