As an emotionally charged season reaches its climax Notts County boss Luke Williams knows there are no guidelines for grief.
The Magpies lost chief executive Jason Turner suddenly in March, aged just 50, with his funeral held last week.
Williams, who was among those who carried his coffin, has helped lead a club through heartache while trying to win promotion from the National League.
A staggering 107 points still saw them finish second, behind Wrexham, but they then claimed a blockbuster 3-2 win over Boreham Wood in their play-off semi-final on Sunday as Jodi Jones' strike in the final minute of extra time capped a comeback from 2-0 down.
Now, Saturday's play-off final against Chesterfield is their chance to end a four-year EFL exile with the memory of Turner a driving force.
"I don't think there's a manual," Williams told the PA news agency.
"You can be involved in 1,000 games of football but this is something that is about life and there's no rule book for this. I try my best to support people and to try to support Jason's family as best I can.
"Nothing that I've had to do has been a burden to me. It's actually, in a way, helped me to mourn Jason's passing."
Saturday's final at Wembley will mark the finale of a thrilling campaign, one where Williams and the club have kept going in tragic circumstances.
Yet it leaves the former Swindon boss wary for when the adrenaline wears off and he and the Magpies have time to reflect.
He said: "When you experience very, very strong emotions, very, very high emotions and very low emotions – when they're all very extreme – I feel like you're always very vulnerable when you come to an end of a chapter like this.
"I have experienced things similar in the past and I have a brilliant family and that is the key thing.
"After this type of rollercoaster you need to be with people that care about you and people you trust with your life to be able to help you to recover before it all begins again.
"Will I be able to draw on these experiences? I'm sure, yes. l hope nothing like that happens but you know life is so fragile so there is every chance I'll be involved in something of a similar nature.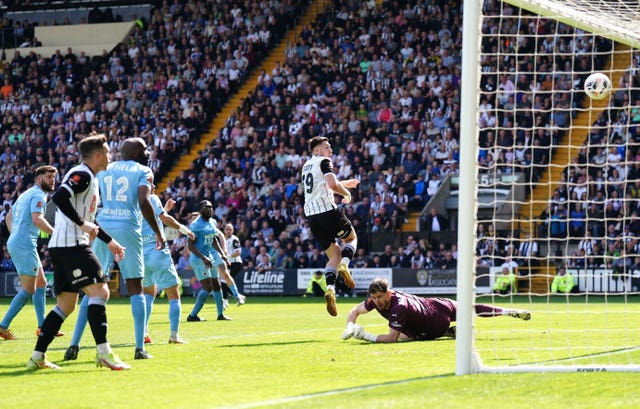 While champions Wrexham have been partying in Las Vegas, courtesy of owners Ryan Reynolds and Rob McElhenney, Notts County have one last game.
Reynolds and McElhenney are expected at Wembley to support the Magpies, something which Williams welcomes as he looks to join them in League Two.
"It's brilliant we're able to be really fiercely competitive and do everything we possibly can to try to get to the title and then be able to be respectful and supportive at the same time," added Williams.
"We want passionate performances and brilliant moments to celebrate and the fans to be able to wind each other up. Then, afterwards, it is a nice development to see the class of the two clubs and the respect they have shown towards each other."